Do you need a perfect barbecue with the right choice for exactly your number of guests? PIK Barbecue Calculator is exactly the app that helps its users, PIK's future buyers, with the organization of a perfect barbecue party. PIK Barbecue Calculator solves the barbecue problems with an algorithm that analyses how many guests you have over, what they love to eat, and a hundred little details that bother every real grill master.
Meat Challenges of a Good Barbecue
Every good story starts with a problem, and ours is no exception. Back in his college days, Bamboolab's Bruno Bušić had a lot of trouble with the organization of barbecue parties that have enough meat variety and amount for all of the guests, a problem that led him to create an algorithm that allows for the input of data about barbecue guests and suggests an adequate amount of meat for the party.
If you'd try to put the meat thoughts of our hero in words while he was dreaming of perfect barbecues during his college years, they'd probably look like this:
"How could I make all of my barbecue party guests happy?"
And barbecues were plentiful. As an active member of the student association IAESTE, he was often forced to think about barbecues, meat, and condiments for a long time, the time he could've spent doing something completely different. It was there that Bruno had the idea that will years later save a lot of grill masters throughout Croatia.
"An app that calculates instead of me! Calculator! Barbecue calculator!" - shouted Bruno, and got to work right away. What he created was a prototype of a calculator that will help everyone to worry less and grill more.
The solution was very simple and smart, like all good ideas like the first wheel or the headphone jack on your phone, inventions whose biggest drawback was that the didn't have anything to do with meat. Well-stocked barbecue parties quickly spread from the student associations, because Bruno certainly wasn't selfish. You shouldn't be either when it comes to barbecues.
Years have passed, and the calculator remained in use on barbecue parties across Osijek. After Bamboolab started collaborating with PIK Meat Industry, Bruno finally had the time, place and opportunity to make his idea available to everyone, which he did. Bamboolab developed the Calculator to its full potential, an app that calculates everything that Bruno's prototype did years before, only better, prettier and with the support of PIK.
The idea of the Calculator is to answer the three key questions that puzzle every great barbecue chef:
How much (and which) meat should you buy so that there's not too much or too little of it?
What is the approximate price of meat for a certain number of people?
What else shouldn't we forget?
PIK Barbecue Calculator allows you to solve the above problems in just a few short clicks, and by doing such presents itself as a perfect alternative for every aspiring barbecue master, and the future buyer who will after using the Calculator notice PIK's products in the shops first.
Aside from the already mentioned meat products, the app also takes into account the amounts of bread, condiments like ketchup and mustard and other small things that make a good barbecue - great! Come to think of it, who ever heard of a barbecue without onions?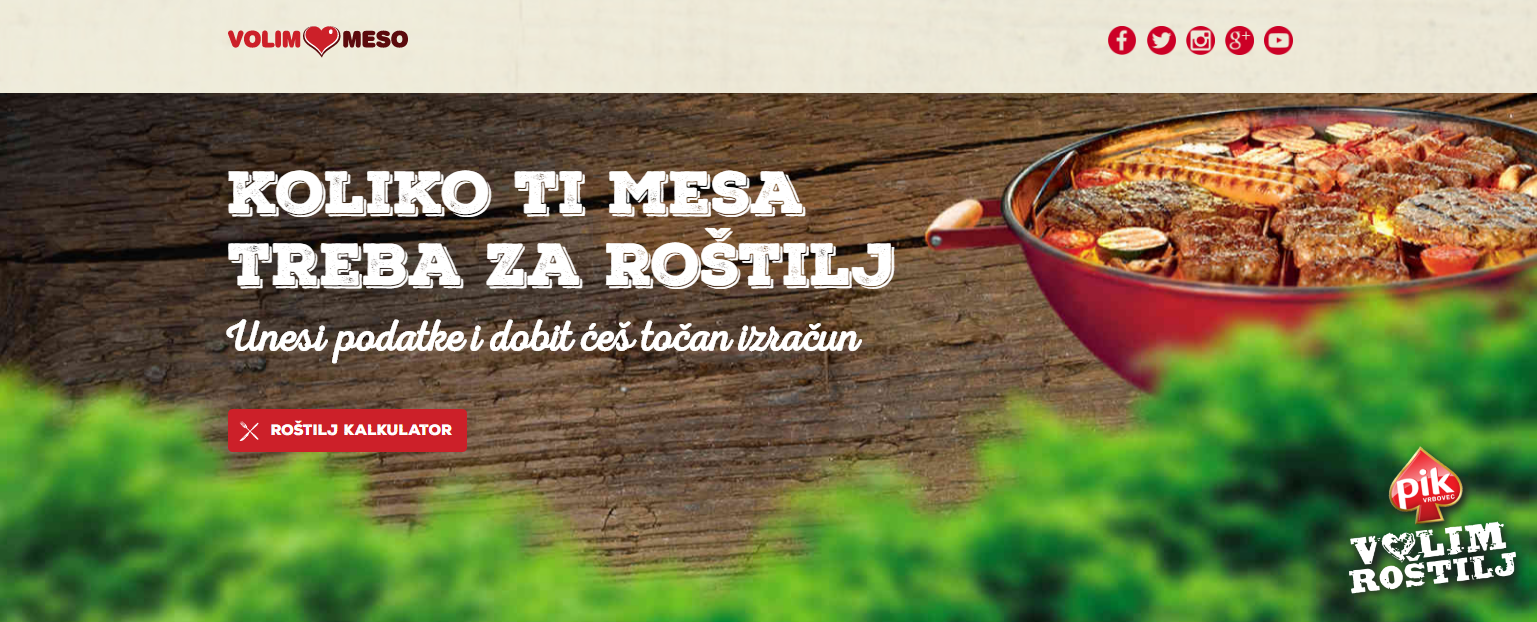 Meat Maths
The challenge was to make an app that can accurately predict the needs of users and provide them with prepositions that have scientific value. We're not talking about nuclear physics here, but any group of meat lovers will surely consist of those who love to eat all sorts of meat, but also the pickier ones who love to eat only the chicken breasts or perhaps wings.
Of course, one mustn't forget about the children and the potential vegetarian barbecue-goers, so the app needed to be able to juggle all possible meat variants to provide users with an adequate proposition for their barbecue.
How do we Barbecue with the Calculator?
Step 2: Pick your guests
It's important to know who you're dealing with. With that in mind, count your guests carefully, and sort them by women, children and kids in the required fields.

Step 3: Choose the meat preferences
This is where it gets interesting. Using the sliders you choose which type of meat you prefer better.
These are perhaps the sweetest worries of every grill master, but keep in mind to be thoughtful while picking what your friends love so that nobody remains hungry. If for some reason you don't know their barbecue preferences or they just love eating everything, just don't move the slider and you're good.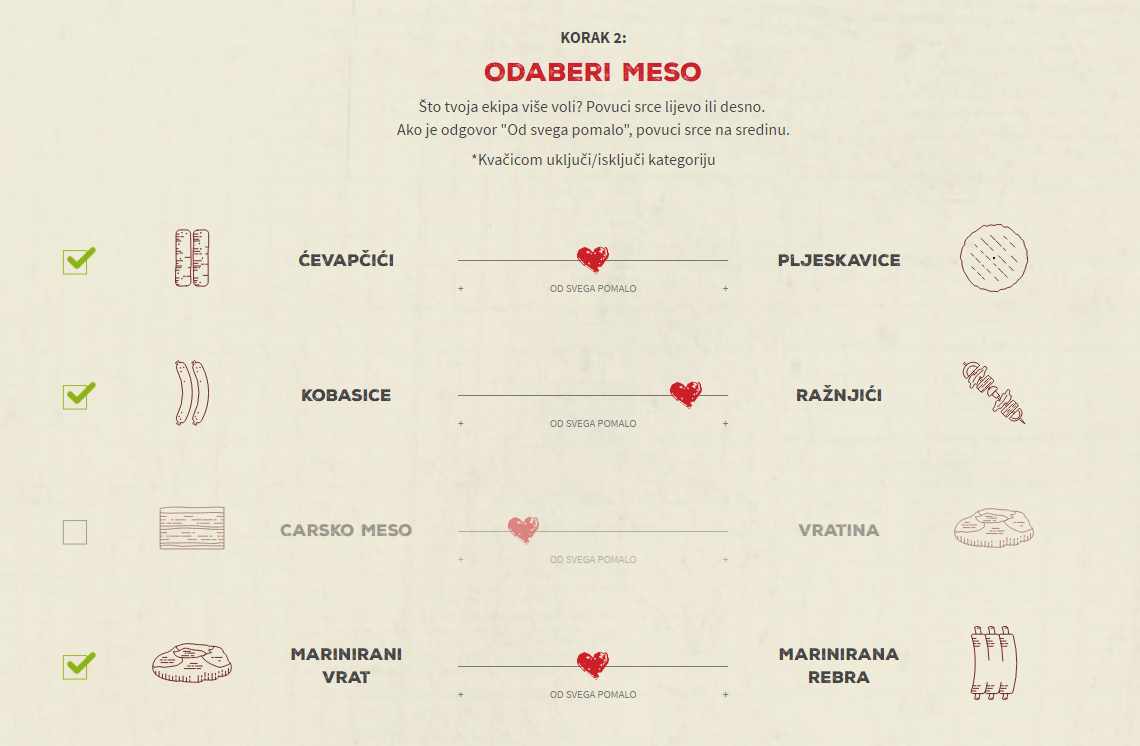 Step 4: Pick your condiments
You mustn't forget things like bread, onion or tomatoes, and even though the calculator won't tell which type of ajvar is the best, it will calculate how much you need, so you won't be lacking any of it for sure.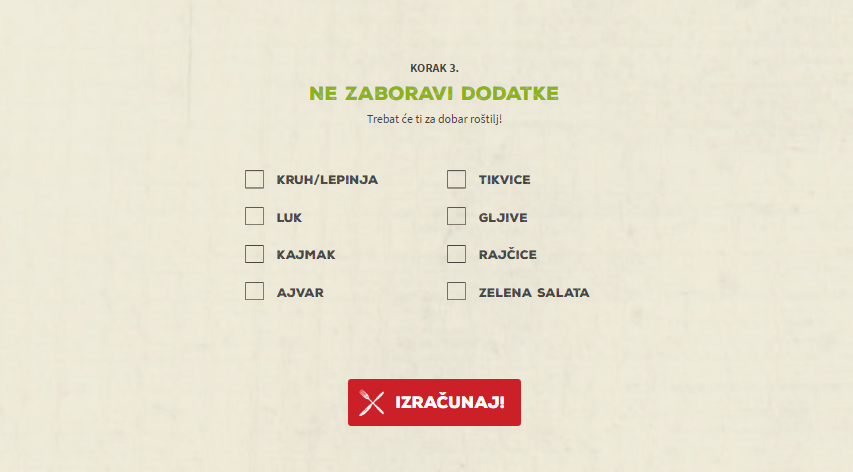 Step 5: Brag about it on social media
After you calculate your food, it's time to take your accomplishment to the social media pages. By clicking on the share button, you automatically share your shopping list via Facebook, and you can even print it out to make your shopping easy. Bon Appetit!
Using this app is easier than counting to five, because as you can already tell, there are only five steps to take before your barbecue is perfect. All you need is a computer, smartphone or a tablet, even though you could probably use a smart TV or, in the ideal case, a smart fridge.
A barbecue isn't a real barbecue if there's only meat involved, so the Calculator gives options for everyone who isn't a meat-eater.



Step 6: Take your product list to the supermarket!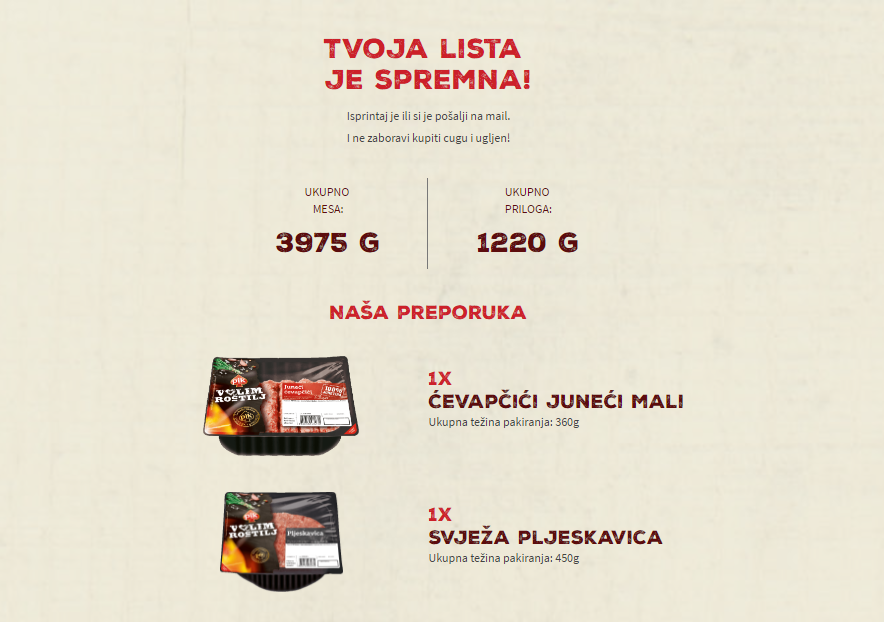 The shareable potential for PIK
With the Barbecue Calculator, PIK Vrbovec gets excellent brand integration in advertising that isn't a classic commercial, but rather a potential internet phenomenon that allows for easy sharing on the social media via its integrations, so that the barbecue lovers can enjoy sharing their accomplishments online.
Making the shopping trip for the barbecue meats easier is only one of the things that the Calculator does for you. Using the Facebook integration, it allows you to create content that your Facebook friends will see and perhaps click Like or Share on so that the news about the barbecue can spread throughout your Facebook "kingdom" and you can brag to all other barbecue masters that you and your friends make the best possible barbecue.
You must be wondering: what does PIK get from all this?
Likes, shares, and the viral topic, that smells almost as good as a great barbecue.
Sharing via Facebook allows the users and their friends to talk about the Calculator, and the originality of the Calculator aids the creation of a "guerilla" viral campaign that first and foremost helps users, and then promotes PIK Vrbovec afterward.
In a world where everyone is fighting for good content, this content is excellent by itself like a well-seasoned chicken breast is. Barbecue lovers who are using this app will instinctively share content and with that create content for the promotion of PIK meat industry, but not only that. When they walk around shops where meat is held, PIK will be their first association for barbecue meats, just like it should be.
Don't despair if you're not certain about your barbecue meat needs, turn on the Barbecue Calculator and calculate everything you need to know, because we're talking about an idea that was in development for years, and that turned out better than a well-smoked piece of meat.

P.S. We'd like to thank Cvoke agency (great job Marina, Nebojša and Ivona) as well as Mia from PIK, for a great cooperation on the project. :)