It feels like only yesterday that Instagram introduced Stories in response to Snapchat, so we're not surprised by their move to win over the TikTok audience with Instagram Reels. By implementing Reels, Instagram users and businesses alike have the opportunity to become creators of short, fun, and dynamic vertical videos.
More importantly, let's not forget that in June of this year Instagram introduced us to Instagram Reel ads. With this news in mind, why are the brands still as apprehensive about this new feature as they were about TikTok?
We see Reels as a great way for people to discover new content on Instagram, and so ads are a natural fit. Brands of all sizes can take advantage of this new creative format in an environment where people are already being entertained. Justin Osofsky, Instagram Chief Operating Officer
TikTok, TikTok...it's time for Instagram Reels
While large and well-known brands use Instagram Reels to expand and reach new audiences, it's also important for smaller brands to quickly and efficiently build their brand and visual identity. The main advantage of Instagram Reels is that you already have an existing Instagram community. In other words, you don't have to start from scratch like on on newer platform like TikTok.
Better yet, the video creation capabilities are the same on the two apps. Users can post the Reels video on the main feed, publish it as an Instagram Story, share publicly within the Explore tab, and more to boost impressions beyond just your existing followers. This increase in reach is one of the best ways to go viral.
Follow this easy five steps guide to start attracting new customers and building your digital community.

1. Make time and space for Instagram Reels in your video marketing strategy

First, use Reels to engage with your audience. Tell your brand's story, show the fun side, and stay true to yourself. Today more than ever, if you are not authentic, you won't have an active community that follows your every step. Let your audience see your human side and make them feel connected. Before you start filming, create a plan and make space for this format in your content strategy.
Begin with a

clear image of what you want to achieve

. What kind of content does your audience react to?




If you are just starting to work on reaching your audience, focus more on fun, sharable content to increase brand awareness. For example, you can make a

fun transformation

, engage with a

hot trend

, or if your brand is in the food industry, share

a video recipe

.



View this post on Instagram

Know your target audience

. Analyze previous reactions to existing videos on your platforms to see what type of content performed the best. You can also create surveys on Stories with Poll or Quiz stickers to get even more insight from your audience. Not sure what your audience wants to see? Ask them!

Be consistent

. Start with one Reel a week to begin. Over time, gradually increase the number when you see what type of content your audience likes.



Avoid reusing existing content

. Instead, think about creating an upgraded version for Reels that will add new value to the brand. You don't want to rehash the same things over and over again.
2. Write Down Content Ideas You Want To Test

Next, it's time to take action. You'll quickly learn it's not enough to record a classic, quick video as you do for IGTV or YouTube. A successful Reel must have interesting musical elements, cool edits, dynamic recordings, and transitions.
For example, take the famous "What's in my bag" trend. When you're filming it for YouTube, it is enough to turn on the camera, take the purse, start taking things out and talk. Creating it for Reels, you will implement a cool melody, take things one by one out of your purse, record each one separately with a camera, and add some text. Easy peasy. Because you have a smaller time frame to work with, you need every second to count.
Not sure where to begin with your content? Here are 4 suggestions that you can quickly implement.
Behind the scenes

- show the audience the production process behind their favorite products. If you offer services, show how you prepare or what your day looks like.



Educate your audience and teach them something new

- people love tutorials, and this type of video has been popular since the very beginning of YouTube. For example, a sports equipment store can demonstrate 5 exercises to soothe a sore back that you can do at your workplace.



Showcase your product in a fun way

- it is not surprising that animal videos have over a million views and shares.

Think about how you can incorporate elements that will make the audience laugh. You want your users to have a fun experience so they feel more connected to your brand.

Recreate viral challenges

- look for trendy challenges and tailor them to your brand. If you do this when the popularity of the challenge is at its peak, you have a chance for greater visibility.




Pro tip - use a Storyboard to write down all the scenes and needed elements of your video. It will make the filming and editing process more manageable.
3. Get On Reels and Do The Twist
You don't have to come up with viral content from scratch. Go on Instagram, watch Reels, and see what type of content out there already performs well, whether that is related to your industry or not. Maybe you see something and think - oh, that looks good, that is something related to my business, and I can do it in an authentic way for my brand.
It's not about copying other creators' work; it is about adding, taking a specific part, deconstructing, and making it your own. When you put your own spin on things, others take notice.
Let's say that your brand is producing stylish mugs and you come across a currently popular 30 days outfits challenge. Here is what you can do:
Create your seven-day coffee challenge in which you present a different type of coffee in the new cup every day. This way, you create an educational element and yet promote the mugs you have to offer.

Work with influencers on creating Reels for your brand or sponsor an influencer who is currently doing this challenge. For example, before she changes from her pajamas into an outfit for the day, she reaches for her cup, takes a sip, and transforms into an outfit, with the cup still in her hand.
4. Don't Skip The Detailed Script
Before you start filming, make sure you write the script first or use the storyboard mentioned before. A good script needs to have the following elements:
Define

date and time

for filming. Also, book your Google calendar, so your teammates know you won't be available during the filming time.

A location

needs to be aligned with the brand aesthetics. Make sure it looks good during the season and time of the filming. For example, if you want to catch golden hour, scout the location beforehand to make sure it's a good fit.

List the

props

required for filming each scene. If you plan to create a Reels recipe, make sure you have all the ingredients and the right equipment.

Make sure you know how you want to create your

transitions

in between the scenes. Whether it be jumping, twirling, or something else, make sure it blends nicely and smoothly. Pro tip - use the

Align Tool

.

Choose the right

song, sound, or voiceover

to match the theme and transition.
Make sure to take at least one vertical photo with product/person-centered in the middle for your cover image. This way, you will have a quality thumbnail that will also look good on your Instagram feed.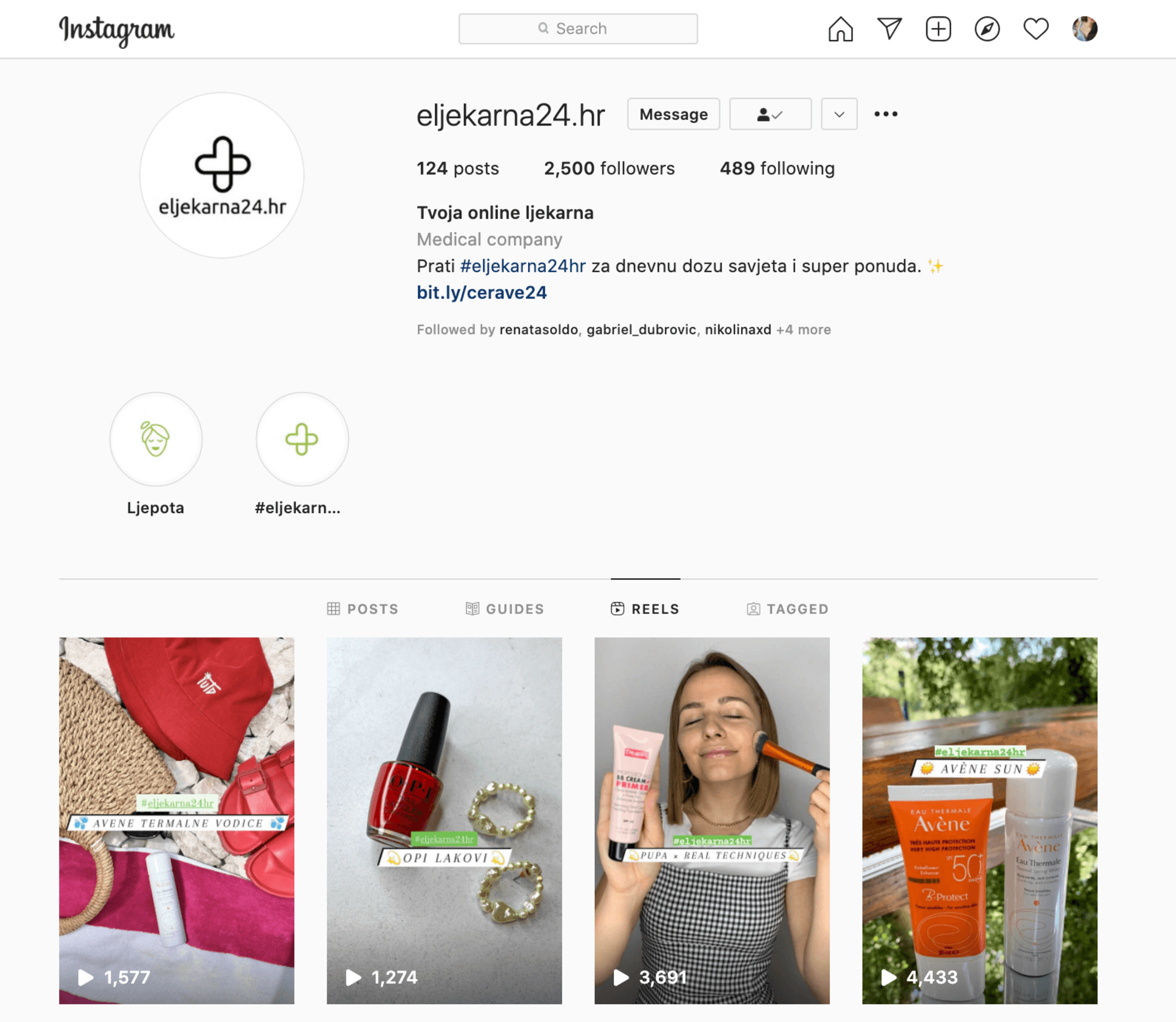 5. Promote Your Reels
Finally, to maximize your reach, make sure to share your Reels on your Instagram Stories. Let your audience know you have new Reels out and invite them to check your new content out. If your video gets positive feedback and users start interacting with it the moment it is out, it has the potential to become viral. That is also why you should focus on quality not quantity.
To get feedback, ask your audience later that day through the Ask me a Question sticker or Poll sticker. Ask how they liked your new video so you can gain insight for the future material. It's always important to tap into your audience and their engagement.
Last but not least, don't forget to include your Reel in your Instagram Guide!
Now is the right time to start creating Instagram Reels. If you make quality Reels, your content is more likely to become visible to the broader community on their Instagram feed and through space on Instagram Explore. Later, as the platform gets more crowded, it will be much harder to stand out among millions of brands and creative short videos.