We had the pleasure to talk with one of our favorite up-and-coming content creators in Croatia so let's just jump right into the questions.
1. Hi Josh, tell us a bit about yourself.
I'm Josh, a 23-year-old industrial designer, traveler, videographer, Instagram filter maker, and a creative from Zadar, Croatia. I moved here from Canada at age 12 and have been back and forth until last year when I moved to Croatia for good. I studied design in Canada and also had the chance to study for six months in Singapore. I am passionate about thinking outside the box, pushing people to reach their full potential, pitching, gardening, and traveling.

I have been to 35+ countries and my favourite would probably have to be The Philippines and Croatia, of course. I went on my first international work trip at age 17 and had been working, traveling, and chasing my dreams ever since. Some might see me as crazy, but I set big goals for myself and live for the "wouldn't it be cool if" moments in life. No goal is too far out of reach for me. I love creating, building, and coding things ever since I was a little boy. Most recently, I have been focusing most of my attention on building my brand IUTD Studios, a community of dreamers and achievers, a place where people won't feel judged for dreaming too big, and a place to empower people to work hard and realize that everything they can imagine is real.


View this post on Instagram
2. What makes a great content creator?
The three things that make an amazing content creator are being unique, knowing your audience, and being consistent. There is an ocean of influencers nowadays and what was cool yesterday might not work today. I think it's super important to go with the wave, follow trends and move forward. You might be the best travel photographer, but if you're still posting "My Year videos" inspired by Sam Kolder like in 2017, it might not work anymore. New things are coming every day: Tiktok, for example, Instagram Filters, NFT's, the metaverse, Reddit, etc. Many of us doubt these new platforms, but it's always worth a try because if you get on a trend before it becomes a trend, your chances to succeed are a lot greater. I have a quote I made up and it goes: "You can either be the first or the best at something." If you're the first to do something, you'll always be known as the first one. But you can also be the best to do something—for example, TikTok videos or posting unique photographs.
3. Beginnings are hard. How did you start and gather your first 3000 followers?
Oh boy, I think I started to focus on social media after seeing JacksGap videos on Youtube. I wanted to be like them - to have my own cool office space, make cool videos with transitions, and adventure around the world in exotic countries. After posting my first YouTube video and seeing how many people enjoyed the content I was creating, that's when I wanted to grow even more. To start, I already had about 1000 followers in my early days because I had a lot of genuine friendships and acquaintances around the world. I lived in Canada, moved to Croatia, and had already travelled to 20+ countries by the age of 15. After I started to post my life online on YouTube, I started growing my subscribers and back in the day, I remember having more subs than Instagram followers. To get even more people to view my stuff, I would go on ASK.fm and post random "questions" to people telling them to check out my recent video and subscribe. Not many people were doing this back in the day, they weren't bombarded with people asking for subs or follows like today, so it worked!


For Instagram, I would ask other people with approximately the same amount of followers as me for an S4S or Shoutout 4 Shoutout. I got a lot of followers by constantly doing this because no one was doing it back then. If I were to do this today, I don't think it would work as much because people are so over any kind of promotion they're not finding interesting. When I was starting, I wasn't so focused on creating the perfect feed, and I was just being me and posting my life. I think that's something that I can learn from today because nowadays, I am incredibly picky with what I post and how my feed looks. I wish I had the power in me to just post whatever I wanted, and I also think my followers would like seeing this imperfect, everyday side of me.
4. Describe your typical workday.
So about half a year ago, I finally got my own office close to Zadar City Centre with my dad. It's the best feeling having my own space to get creatively messy and a place where I'm forced to work and be productive. It's so much more different than being home and getting easily distracted. My workday starts at 8 am. My morning always starts with a morning coffee with my dad and sometimes sister, where we talk, dream, imagine, and plan what we have going on today. Once I get to the office, I usually check emails or make a checklist of things to do. Having a checklist helps you visualize exactly what you have to do. I typically have so many things to do per day, so I will most likely forget if I don't write them down. Usually, after emails, I check if I got any orders, and I fulfill them asap and bring them to the post office, which is only like 100m away from my office. After that, I usually edit some client videos, work on filters, listen to business podcasts, and write down notes of what I've learned. We all usually go home for lunch around 12 pm and take a break till about 2 pm, and then we go back to the office for work part 2.


Every day is different at the office, depending on the day or season. Some afternoons I spend fixing my brand's website, making mood boards, and gathering inspiration on Pinterest; other days, I create pitches for my dream clients. Something I'm currently working on, and I am super passionate about, is creating a workshop about "The Power of the Pitch." I made a document that I fill every day with valuable information about pitching clients, how to find clients emails, how to find the right clients, how to charge for projects, how to justify your price, coming up with an idea to pitch, the best time of year to pitch, etc. Depending on the season and time of the year, I also spend so much time pitching different clients. I tend to create pitches around October to pitch for projects in November/ December (Black Friday + Christmas) and around April to pitch for projects over the summer. After I finish with work I usually go home, sometimes I go for a walk or run, watch a movie or read a book before bed. I recently read a book that I loved called "1 Page Marketing Plan".
5. How do you find your inspiration? Share with us your content creation process.
I find my inspiration on Pinterest, or by remembering my childhood, and also by just doing and exploring. Often, I just look to see what other people are doing. I got inspired by a recently-read book called "good artists copy great artists steal." It basically says most things around us aren't original. For example, the chair was redesigned thousands and thousands of times. It's important to take ideas and inspiration from multiple people and do it in your own way. You can get inspired anywhere and anytime; it's just important to live life and keep your eyes open.

Another way I find inspiration is by going for long walks of 1-2 hours. I started doing this during the first quarantine, and I've fallen in love ever since. I realized that when you go for long walks with nothing to do, your brain starts thinking and coming up with ideas. It's really cool. I would go walking and then see a tree that would remind me of something and give me an idea. This is proof that inspiration is everywhere. When thinking of ideas and planning content, I also try to look back to my childhood. I feel like people are attached to nostalgic things, and it always feels good when someone revives a feeling they haven't felt in a while. That's why I love creating analog videos and shooting on film.

The last way I find inspiration is by just DOING. You can learn so much as you're doing. Just imagine an idea as a piece of clay. As time goes on and you keep playing with it and shaping it, you start to get ideas of what it could become. Play with different mediums, paint something, take some fabric and cut it up, film a video with your mom's old camera, use a scanner to scan plants from the garden. Just enjoy life and keep your eyes open.
6. How do you discover social media trends? Do you follow trends or not, and why?
Trial and error. On Instagram, I just post what I want, and I try not to follow any trends. My goal is just to portray myself in a true and genuine way. For IG, you shouldn't follow trends, but for TikTok, you should. On Instagram, there's so much diversity and variety that following a trend just makes you "another influencer." On TikTok, it works because the algorithm pushes trends, but on IG, it's important to be unique and different from the others.
7. Who are you following on Instagram? Tell us more about your favorite influencers and content creators.
@utopia.us A cool guy that upcycles and creates a bunch of stuff with fabric. He creates his patterns and sews cool things such as bags, pillows, hats, and chairs. He also has a TikTok account where he shows the process and I love it because this is something I want to be doing in the future.
@mschf MSCHF is a super inspiring brand to me and is an inspiration for IUTD. They release really weird items such as a blurry stack of money, maggot flavored chips, and their famous Jesus shoes filled with holy water from the dead sea. I love how random they are and how they combine online with offline. They recently did a pop-up where they transformed 7/11 gas stations into their own 8/12 gas station. Inside was a vending machine with a big red button that accepts only 2$ or 20$ bills. The machine dispenses random items like MSCHF branded Coca-Cola, Skittles, chips, etc.
@twojeys Twojeys is a Spanish jewelry brand that inspires me. I just love the vibe they set, the promo videos they create, and the campaigns they run. They recently made their vending machine out of which they sell their jewelry. They placed it in the desert for their followers to find and purchase their products.

8. What was the highlight of your career?
Honestly, I would say there are different highlights for different things. One highlight would definitely be the opportunity to travel to different countries like Bali, Bahamas, Iceland, and California and be paid for it. That was my ultimate goal from the start, and being able to do that at a young age like 17 was incredible. There was a time when I was in Singapore when I would come back from a trip, and the next day I would fly out again. I love traveling, exploring new places, and capturing all those memories on videos. Because of my job, I got to see the Northern Lights, surf in Bali, see pink sand beaches, swim with whale sharks, and jump 20-meter waterfalls.



Another highlight for my video career would be getting to shoot my favourite artists, which I managed to make happen. I got to work alongside Will Smith, Marshmello, The Cheat Codes, Martin Garrix at international festivals such as Coachella, WorldClubDome in Germany and Djakarta Warehouse Festival in Bali.
When it comes to fashion design, my highlight would be working with Jägermeister. It was such a fun project, and it felt amazing to have creative control from start to finish. I'm so proud of myself for overcoming all of the hurdles we had to go through to make this project alive. Working with a huge client like Jägermeister makes me realize how far I've come since I've started my endeavors in the fashion industry only a little over a year ago! A lot can happen in one year.
9. What are your five favorite tools that help you with your business?
Final Cut Pro X, My camera + wide angle lens, Notion for organisation, 3D printer, Illustrator + Photoshop.
10. What social media platforms do you prefer and why?
Instagram primarily, TikTok, and sometimes Facebook, LinkedIn and Pinterest. At first, like most people, I was very skeptical of TikTok. I started using it after my brother Jonah told me about it pre-pandemic and started posting random TikTok trends. It felt good posting whatever I wanted because I didn't have any followers, so no one would judge me about what I posted. In Canada, when I was posting, I would get around 200 views at max, and I posted like 20 videos.

It wasn't until I got to Croatia that I realized the potential of TikTok. I saw one of my Canadian-Croatian friends posting funny TikTok's about Croatia-Canada, and they were hilarious. At that point, I had heard rumors that the TikTok algorithm looks at your location and shows it to a different demographic depending on where you are. I had just landed in Croatia for the summer and was in 14-day quarantine, so I decided for fun to post my first TikTok. About an hour after posting it, it started POPPING OFF! It was crazy to see the views rise by 2,000 per page refresh. It just kept growing and growing, and the followers were growing rapidly. I got to 6000 followers and 500,000 views overnight. I was so motivated to keep posting, so every second day, I would post a video, and it would pop off every single time it was crazy. I didn't see its benefit until brands started reaching out for paid posts, and I saw the benefit for my own brand. I would post a TikTok about IUTD Studios and my website would go from ten people on the website to 500 in just 1 hour. It was crazy! Things have slowed down now, and I haven't been as active, but my goal is to be more active in 2022. Content-wise, I realized that three types of videos work on my TikTok: Funny videos that have to do with me speaking Croatian and comparing Canada and Croatia, videos with my girlfriend Frana, and videos of me coding unique stuff.
11. TikTok or Instagram Reels? And why.
It's tricky. I would have to say BOTH in their own way. Right now, I have a much bigger following on TikTok, but it's almost like the benefit of those followers isn't as good as having followers on Instagram. Videos go more viral on TikTok, but when they go viral on Reels, it gets me a lot of followers and brand deals. A video on Reels about what summer looks like in Croatia took me from 11.9k followers to 14k in 4 days. That's the most significant growth I've had on my Instagram since 2015, haha. TikTok is good too, but I don't have that sense of community like on Instagram because many of my followers don't see all my videos. No one checks the "Following" section of TikTok, but they check the For You Page. That's one big flaw of TikTok, in my opinion.

12. How necessary is high-quality equipment for good content production? When does one need professional equipment, and when it's enough just to use your smartphone?
It's not. In fact, I'm in a phase now where the sh****** the camera, the more I love it. I use an old 2005 point-and-shoot camera for many of my videos because I love the effect it gives. Smartphones nowadays are good enough for social media. If we're talking about promotional videos for brands, websites, etc., I would recommend a slightly higher quality camera, but otherwise, you're good with your phone. I recently saw a music video shot entirely with an iPhone camera. The opportunities are endless; it's the vision that matters.

13. What was your first collaboration with Bamboo Lab?
The first project I ever worked on with Bamboo Lab was a video for VIP (now A1) a few years ago. It was my first time working with them on a project didn't know much about Bamboo at that point. I knew about Iva Soldo because she was always supportive of my work since day 1. She was like my business advocate and always gave me incredible business advice, links to useful videos, and constructive criticism. I was so happy to reconnect this summer with Bamboo Lab to work with them at Pannonian Challenge in Osijek to create short videos and promote. I had an incredible time working with their team and I think we all fit in tog. We've worked on a number of Instagram Filters in between and our most recent project was working on creating a line of hoodies and custom duck tape for Jagermeister. Not only did we create hoodies and tape, but we worked on everything from animations, photos, videos to Facebook ads and Instagram filters.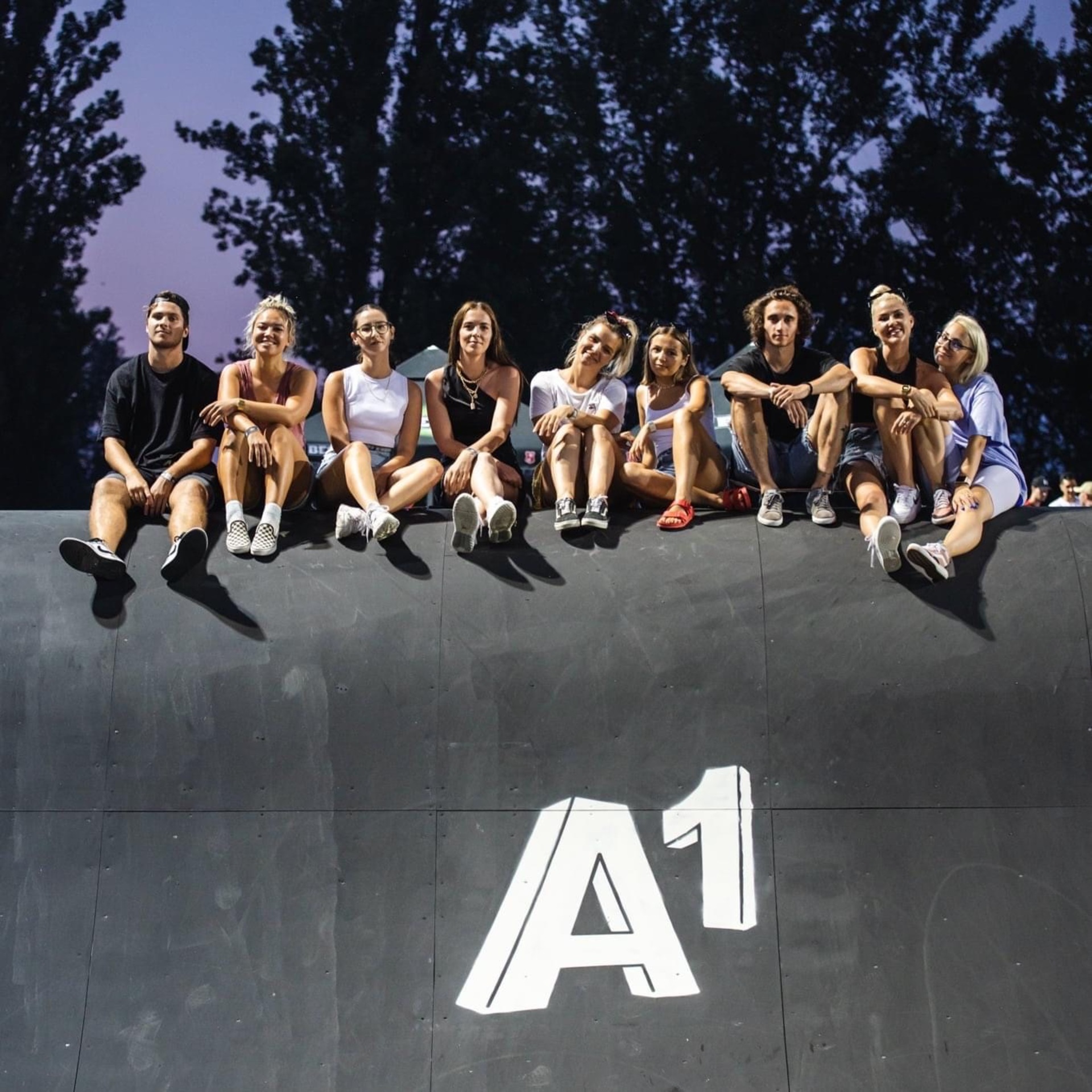 Pannonian Challenge x A1 crew, 2021

14. Why do you love working with Bamboo Lab's digital marketing crew?
Wow. Honestly, I really love Bamboo Lab for so many reasons. First off, I love how the face of the agency are girls. Many marketing agencies I've personally worked with are full of men, but at Bamboo Lab, the women are at the front end while the men are at the back end. It's so cool to see a girl gang being so successful and good at what they do. What bugs me about many other agencies I work with is that they don't do their part of the job. I mean that I'm the content creator, and the agency is the campaign planner, the team that posts, does the ads, etc. The content I create can be amazing, but if the agency doesn't post it correctly or promote it in the right way, the campaign won't work.
The content creator and agency must be on the same level and creativity wavelength. Content creation and how you portray that content all influence the people seeing those posts. That's why I think Bamboo Lab is so good at understanding my vision, adding their touch, and creating powerful campaigns from start to finish. They take my content and know exactly how to use it in all the right ways. I also love how they are up to trends, modern and worldly. You can tell they don't just do jobs for the money but are incredibly passionate about every project they take on, big or small. The way they work is on an international level. Aside from work, they are genuinely good people. I love how they do a lot of team building together and are all work friends and real-life friends. They are also so professional and care about all the little details, like writing a recap email after every Zoom meeting to have notes about what we talked about, something I find extremely useful. Lastly, I love how they work solely on projects they are passionate about. They are activists and work only with brands whose morals and values they stand by. All in all, I love Bamboo Lab, the way they work, their professionalism, and how worldly they are, and I think together, the sky is the limit.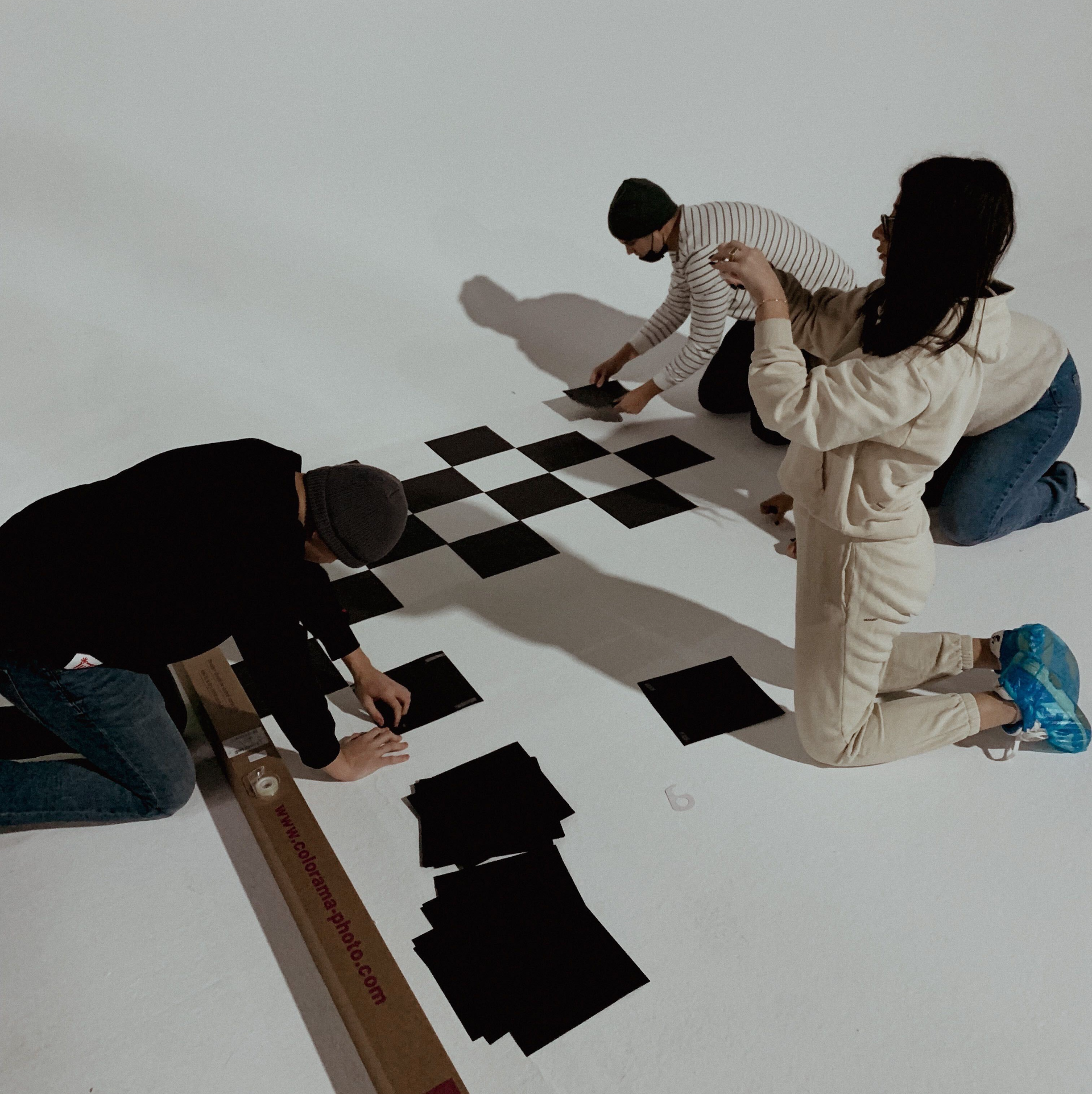 Behind the scenes, Meister the Creativity campaign, 2021

15. What's essential when working with an agency? What should agencies as mediators between the client and content creators do to make their collaborations more productive?
I think agencies must choose content creators they already see as a perfect fit and allow them to shine. It's important to allow creators like myself to have the creative freedom to use my vision and creativity. For me, it's also important that agencies know what to do with the content I create. I've worked with many agencies that would take my videos, crop them into a square, post it at midnight, etc. Content is one thing; knowing how to use it is another thing. Content is like the arrow, and the agency is like the bow. The agency needs to take that content and know where to fire it to hit the bullseye.
Another thing that's important to me is communication. I like to define the premise of the collaboration upfront so that we both know what page we are on. That way, I have time and space to do my thing during the collaboration. I don't like going back and forth a million times with agencies who need to get stuff verified by the client, then rechecked with me, etc. All these steps are important, but they need to be as smooth and seamless as possible, and this is something Bamboo Lab is extremely good at, streamlining the whole process from start to finish with little to no bumps along the way.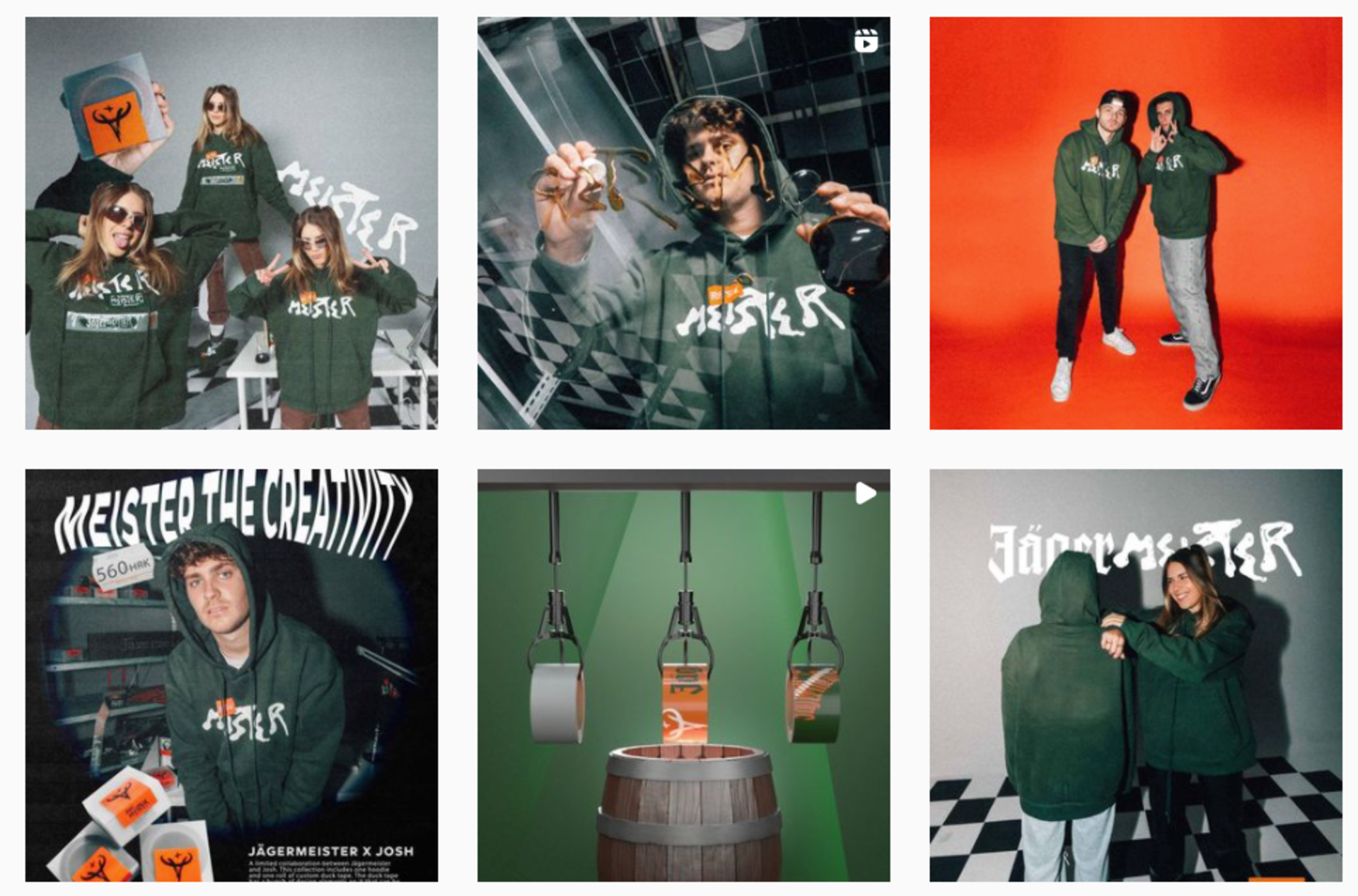 A part of the @jagermeisterhrvatska Instagram feed

16. Tell us something most people don't know about you
I love gardening and my favourite thing to plant is carrots.
I represented Canada at the youth world cup at age 12 in Denmark and Sweden.
I had my first business at age 14, selling custom engraved bracelets.
View this post on Instagram
At 14 years old, I collected bottles to save up for a Selena Gomez concert. My friend and I would wait in front of dumpsters for people to throw away cans, we would go to the recycling of our apartment building to steal bottles so we could get money to pay for trips.

By 19 years old, I travelled to 35+ countries.
I lived and studied for six months in Singapore.
I can speak German, English and Croatian.
While in Canada, I learned to play tamburica and dance kolo.
While travelling in Cambodia and Vietnam once, I forgot to make a visa, so I got trapped in Cambodia for two days, haha.
I first invested in Canon stock when I was 13 (my dad helped me).
17. Your life's philosophy?
I USED TO DREAM. Stop just dreaming about things and start doing. Anything is possible if you put in the work and focus on it! Life is like a magnifying glass. In order to start a fire, you need to concentrate all the beams of light into one spot. If you want to do incredible things, focus all your energy on making it happen. Once things start going the way you want, just keep doing it, keep going in that direction, and don't stop. One thing that is killing me every day is being a perfectionist. Things will never be 100% like you imagine; you can only get better every time you do something. Be a master of your jungle, do what you're passionate about and learn everything about it.

Another thing is, when you're young, try a lot of different things and find your passion. Once you find it, focus on it and keep moving up. If you find too many different passions, it will be distracting and will slow you down. When looking for students to admit into their school, Harvard would rather have students who are really good at one thing than mediocre at many things. Right now, I'm making videos, doing filters, running a brand, coding cool s***, but I feel like if I stuck with videography which was my first passion, I would've gone a lot farther than I am now.