Instagram Story Ads are here! In January, Instagram launched full-screen ads for Instagram Stories only to 30 selected brands, although it was only a matter of time before it became available for all businesses worldwide.
Whether in a single image format or a 15-second video, they appear between Stories on Instagram and take up the full screen, providing a more fulfilling experience for the viewers. If you have experience with advertising, you'll know that you can't choose which Instagram Stories will feature your ad.
Okay, enough talking, it's time to guide you through creating a high-converting Instagram Stories Ads!
1. Step - Choose a Desired Objective
If both your Instagram account and Facebook ads account are connected, you are ready to choose available objective that supports Instagram Story Ads. According to Facebook, if you use Ads Manager, you can choose following objectives: Reach, Video views, Conversions, App installs or Traffic. Also in Power Editor you can select all mentioned objectives except App Installs.
Until just recently, you could only run "Reach" campaigns for the Instagram Stories ad placement, but luckily thanks to the newest update - now you can use other objectives such as Clicks to website and generate more traffic.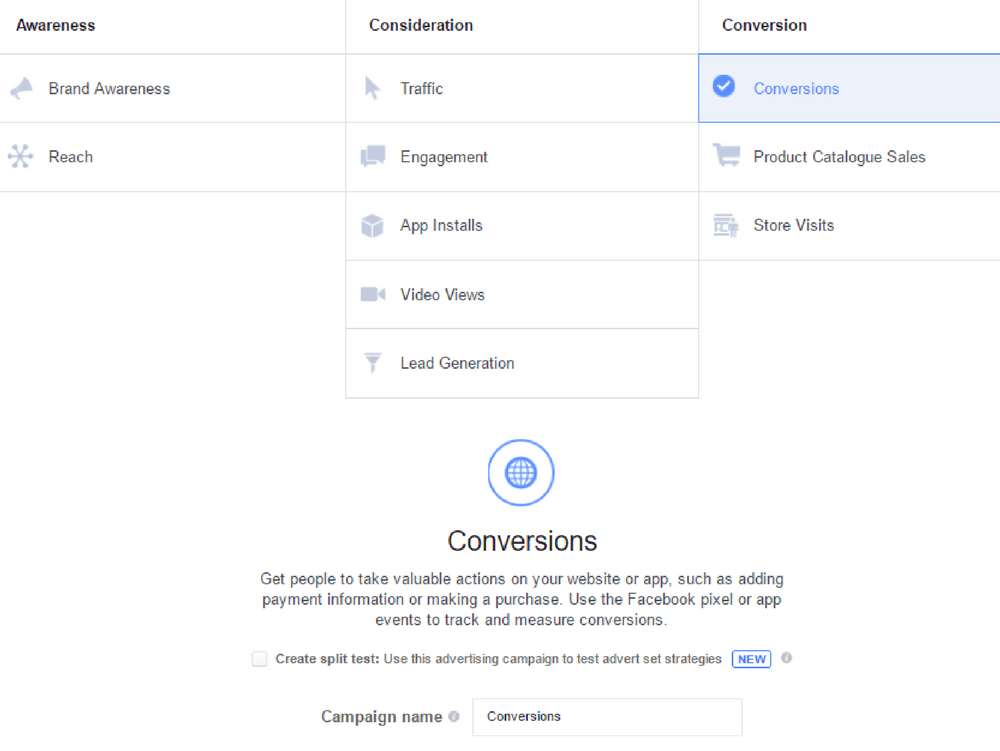 2. Step - Choose Your Placement
On the Ad set level, select desired placement. After you click on Edit placement option, under Instagram choose Stories and other placement options will be unchecked (you can use other placements when running Instagram Stories ad).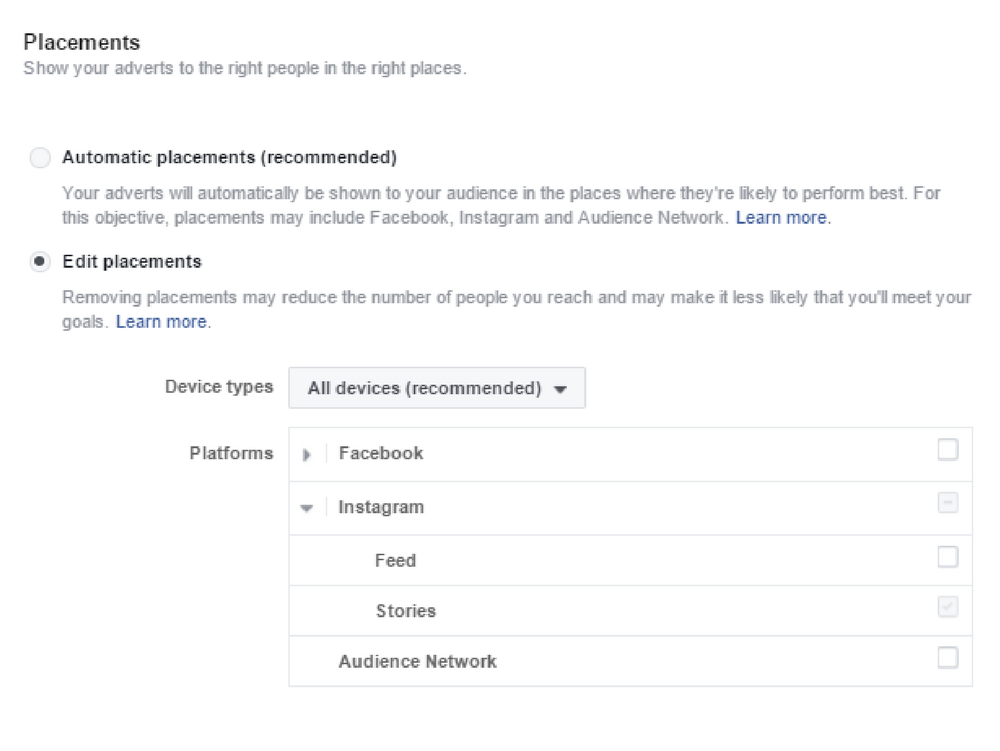 3. Choose Ad Format
On Ad level it is time to choose Ad format. Keep in mind that for Instagram Stories Ads you can only use a single image (no carousel) or video. After choosing your format, you can upload your design.

If using an image, your dimensions should be 1080 x 1920 pixels (9:16 aspect ratio). It's recommended to have little to no text. Video can't be longer than 15 seconds. As an image, it also needs to be a 9:16 aspect ratio and at least 720p quality. Files can be uploaded up to 2.3 GB limit.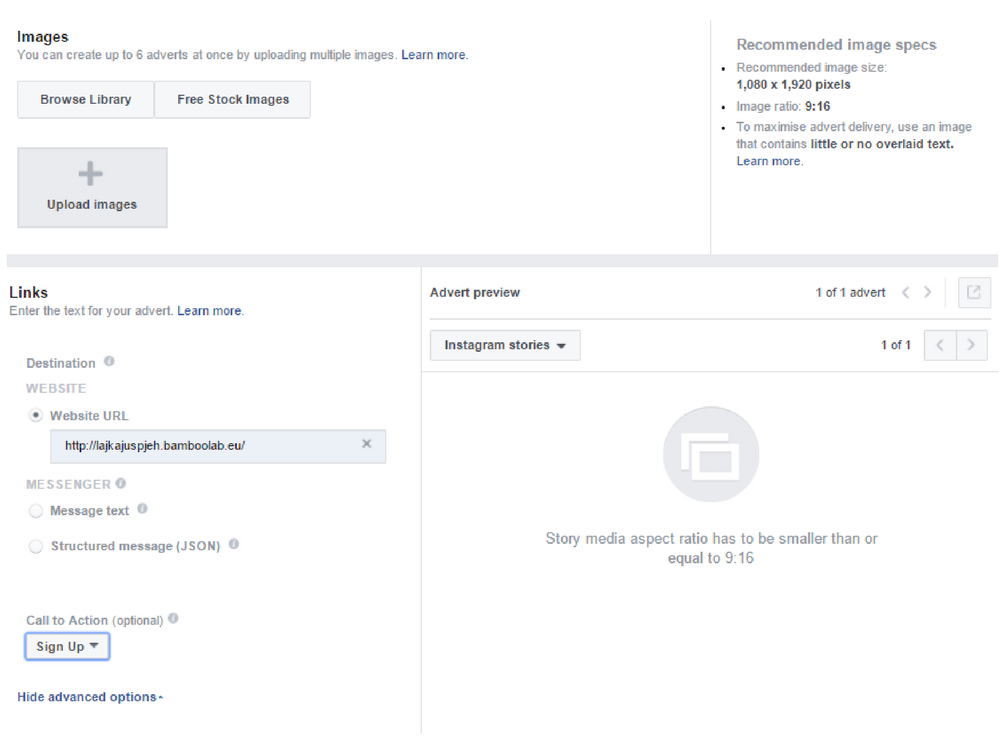 Secret to High-Converting Ads
Because there's no standalone text content such as titles, messages, or descriptions the results depend on the creativity of your image or video. Furthermore, keep in mind that viewers can skip your ad if it is not memorable enough or if the content isn't reaching them. Here are some tips for ads that won't be easily skipped:
Good quality images with a powerful message that resonates with your audience will make them react to your CTA. Be funny, creative, memorable but short - text should not distract the viewer from the image! It's about the overall effect so you have to find a balance between them. Also, nobody has time for reading on a visual platform.
Show that you care for your audience experience by using portrait not landscape - it's not natural and no one will bother to flip screen just for your ad.
Because you only got one shot, your image or video should be clear about what you want to achieve - the audience must know why they should swipe up to get more information and what they can expect (learning about the new product, sign up form for a workshop, install app etc.)
Remember, you are getting into your audiences private space so your content should feel natural. Don't overdo it with graphic design and PR pictures. You don't want your ad to feel commercial but helpful.
I would recommend putting your creative energy in video format too, due to its ability to grab and retain attention - you have 15 seconds to make them want to know more. :)
Now is the perfect time to test out and play with Instagram Story Ads to see how it works for your business and to use objectives such as Conversion in order to test its abilitiy to generate traffic.
Ready for more?
If you want to learn more about setting up and optimizing Facebook campaigns as well as learn mora about Instagram Ads join us on 21st of June on our first Facebook Advertising Education in Osijek. Looking forward to see you there. :)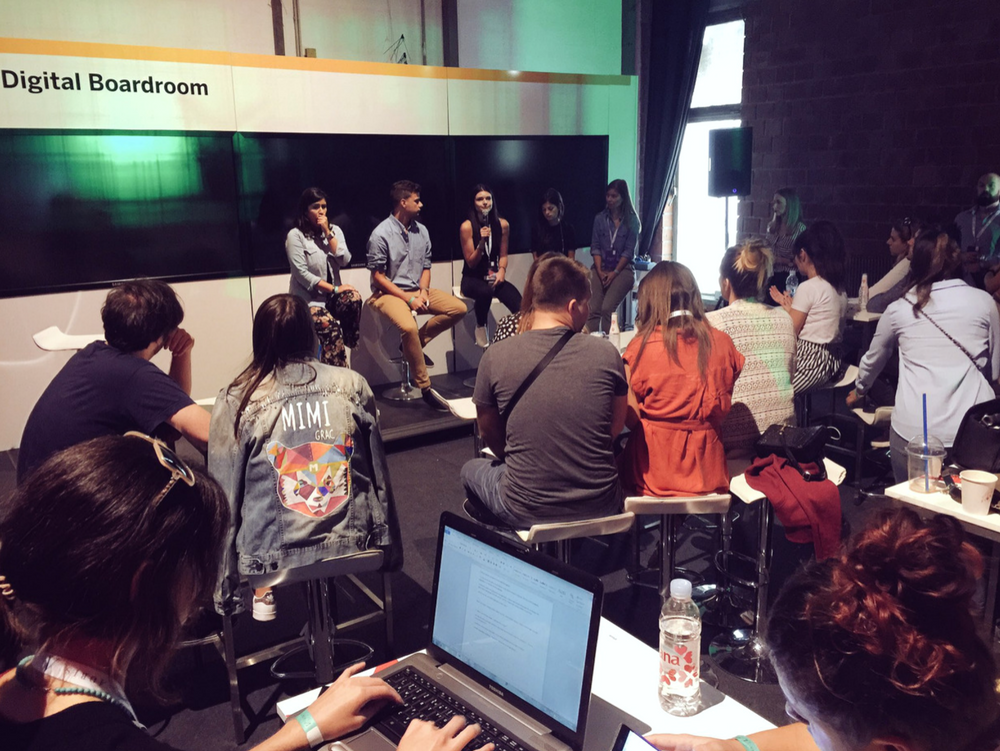 Have you already started creating Instagram Story Ads and are you happy with the results? I'm looking forward to hear more about your experiences and thoughts!