Effective day-to-day communication in teams is one of the pillars of business. It's simple, if communication tools are not adequate, your business will suffer. You will miss opportunities, important details and more importantly, countless hours over slow traditional ways of communicating. That being said, we embraced Slack into our team and said our goodbyes to Gmail, at least when it comes to our internal communication. Following are all the reasons why Slack was the greatest decision we made in improving our communication within Bamboo Lab.
Hello Slack
Slack is the app that helped Bamboo Lab organize our communication and to keep it in one place. This post will show you the best benefits that Slack brings to your team.
A couple of years ago, we took the classic path and organized e-mail groups for all of our founders. We used these groups for all the communication and when I say all, I mean ALL. In a couple of months, we were buried in threads and countless e-mails. We got mixed in the e-mail conversations with no set order.
Then the revelation came. Our marketing genius Iva told us to try Slack. I was really suspicious at first (personally, when dealing with everyday things I am highly a creature of habit). But we agreed to give it a try and we hit the jackpot. Slack was wonderful for us, and it still is. It optimized our communication, made us quicker, more mobile and smarter in dealing with everyday tasks.
Bulletproof Mobility - On Every Device and Real Time
Most apps are perfectly optimized for one resolution or for one device. But not Slack, Slack is just perfect. We use both desktop version(when we are in the office or working remotely) and the mobile app. Mobile app works astoundingly on both iOS and Android mobile platforms. Design is clean, UI awesome.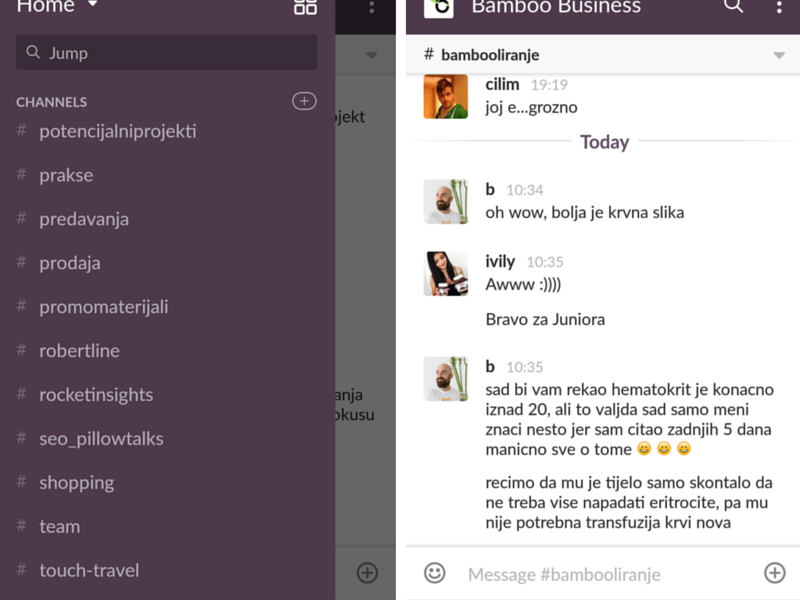 Both versions come with a real-time notification system. You get a desktop or push notification when you are tagged in a chat (using the handle @username - we internally call this summoning or @username is being summoned to a channel) or how you set it yourself.
Notifications are pretty customizable. You have the freedom to decide on receiving notifications each time you are tagged, or for every message. Your notification preferences can have one set of rules for your desktop version and a different set of rules for the mobile version. You can monitor a specific word or phrase and get notified when somebody mentions your favorite client or project. You can even choose your own notification sound. We can say that Slack's notification system is what it makes it truly mobile and that is the key in today's business surroundings.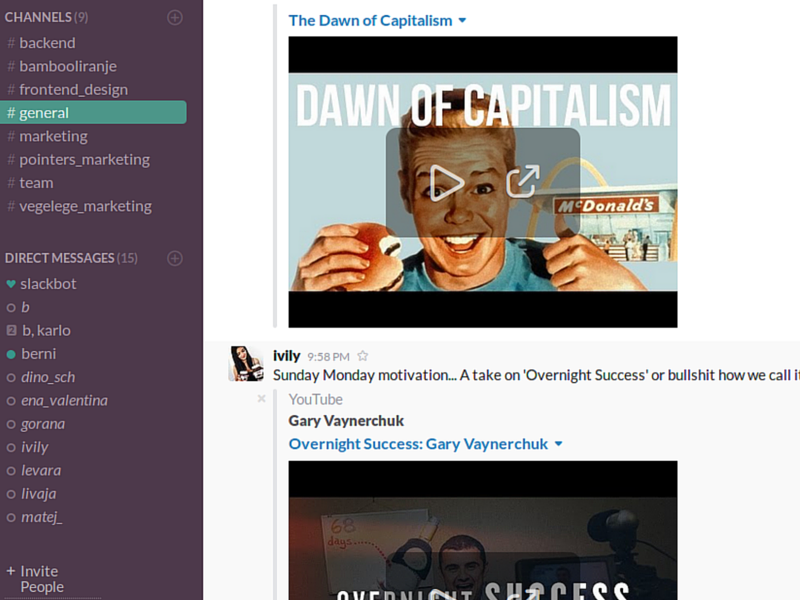 Customize Me - Integrate and Develop
Most of the apps have a designated set of rules you need to follow in order to use them properly. Usually, you have some customizing options like choosing a theme or your profile picture. But you can't modify the functions of the app.
This is what Slack sets apart from other communication apps. Apart from obvious customization like your profile info, profile picture and themes, Slack offers the option to customize loading screen messages, generate automatic responses to certain words or phrases and most importantly, Slack offers you app integrations and third party app development using their API. Following is a List of all current app integrations. To make it fun, we use Giphy to bring all the fun GIFs into our chatrooms. On the other hand, to be more effective, we integrated Asana as well to track any changes within Asana workspace instantly through Slack.
I will not go into detail on how to add an app or how to configure. Let's leave that for my next post.:)
In 2015, Slack opened some funds to finance third-party apps for Slack. That means that besides their current apps and integrations - almost anybody can develop for Slack. They opened their API's and you can do what you think Slack community needs or you can just build a tool for your team. With this move, Slack has opened a box of opportunities to grow even better. And the best part is, YOU can be part of that.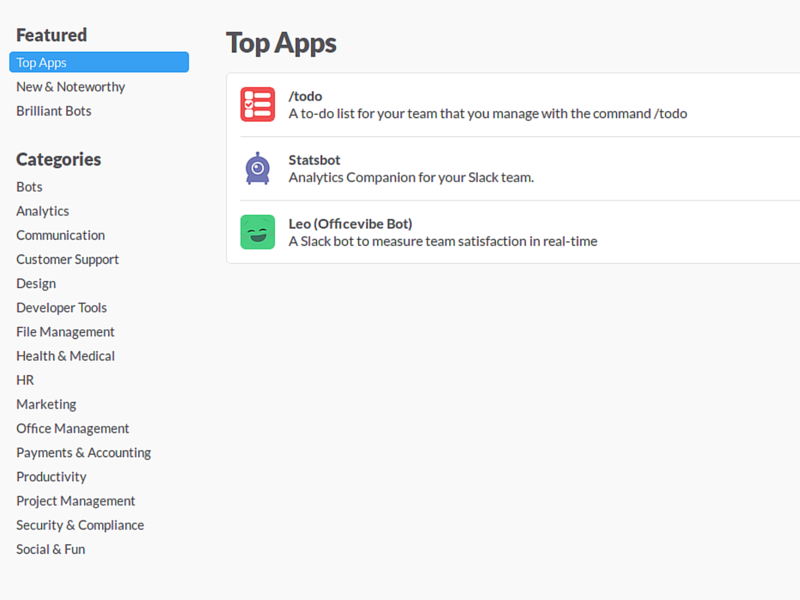 Slackbot Is Your Personal Jarvis of the Slack World
One of the cutest features of Slack is Slackbot - cleverly designed and of great help. In my first touch with Slack, I thought that Slackbot is just a dummy bot that will give you an advice in the same way as the infamous MS Paperclip wizard.
I was (again) wrong. Slackbot greets you when you first join a team and he walks you through some of the features that Slack offers. Slackbot will help you with your profile setup and everything you need to know about the app. You can customize your profile - so when you type a certain word Slackbot will respond. This is great if you need some quick important information. "Store" it in your Slackbots memory and voila. :)
Even if you don't program your Slackbot, he will say "Hi" and give you random tips. if you are doing something that can be optimized. Slackbot always asks me if I want to import my Google Doc files instead of sharing them. Ah, Slackbot, your are a real friend in need :)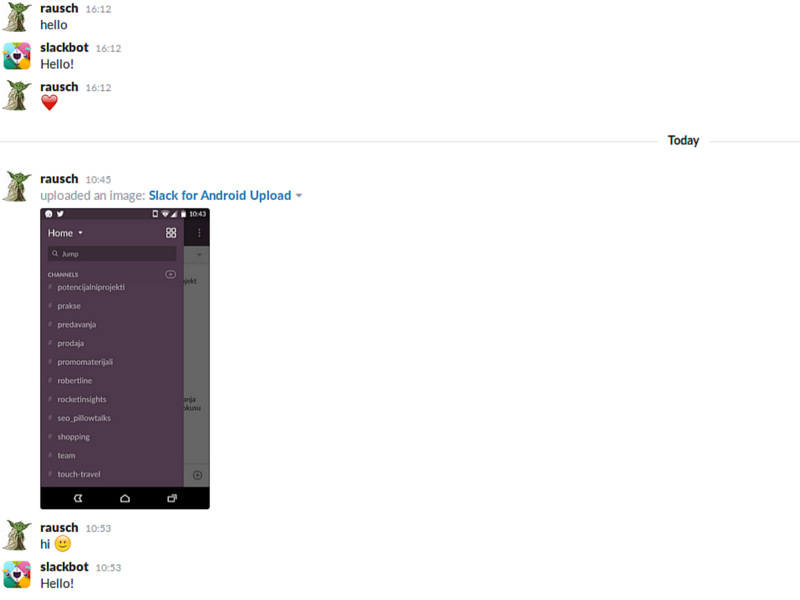 Unlimited Members For Free
One of the best selling points of Slack is that it's mostly free. The free package can have unlimited users with history of up to 10.000 messages. The paid packages (Standard and Plus) have unlimited storage plus some additional goodies (Enterprise pack is scheduled to come in 2016).
If message history isn't of most importance to you and your business, then the free option is absolutely fabulous. You get a premium communication tool for ALL your members free of charge. This is perfectly suited for small companies to bigger companies and organizations. What's also great this is that we have a great option to add people as they come to our organization.
Even if your business needs to have a history of communication or you develop a need for locked chatrooms, you can easily upgrade later on.
Vast Communication Options
There are a few options on how you can communicate within Slack. You can talk through channels, via private messages or groups. If you are a member of more teams - you can easily switch between them. Additional point, if you have way to many communication channels, you can prioritize them and mark the important ones. That way, the high priority channels will be first in the 'column'.
Within every channel there are additional options you can use to make your experience even better. Slack gives you the opportunity to customize how you're going to receive notifications, how are you going to adapt integrations per channels, when are you going to be in the 'sleep' mode, etc.

Hope you got a good glimpse of how Slack works. Give it a try and let us know how was your experience. :)