Since the last June Instagram has reached half a million active users and is still growing. This growing number, as the company says, is due to constant changes they make and we have to agree that the app is very different from the first version that was launched in 2010.
Recently, Instagram announced they are unveiling new business profiles for its business users which feature a Contact button, access to analytics and ability to run Ads directly within the app.
Why It All Started?
As the number of companies who were using Instagram to promote their businesses grew, Instagram realized that it was time to do more for them. They conducted hundreds of interviews with businesses and the three key things became clear for them. The businesses needed to stand out, get insights and easily find new customers. As Instagram stated:

First, businesses want the ability to stand out on Instagram. Many companies, including a furniture store in San Francisco, shared that it would be easier for customers to email questions because comments are hard to track and take the time to sift through. Second, businesses want a simple way to get insights. A retailer in Austin explained that many analytics are overwhelming and hard to apply to its marketing. And third, businesses want to reach even more customers. A do-it-yourself craft shop in New York City mentioned it's always looking for quick ways to fill seats in the class.
With that being said, let's go through all the new possibilities that come with the new Instagram for Business tool, and why your business should look forward to using it.

Setting up is Easy
It's important to note that Business profiles will be open only to those who already have a Facebook page for their business. Instagram's Global Head of Business and Brand Development, James Quarles explained the reasoning behind this decision to TechCrunch:

'In doing that, it gives us the payment credentials, as well as if they want to prepopulate some of the information like their street address, the phone number, and the website.'
It's time that you check if this tool is available for your Instagram account, just click options and under the "Account" section you'll find "Switch to Business profile" option. Instagram will pretty much guide you through further steps. Make sure your Instagram profile is connected to Business Manager before the switch.
Finally, Instagram Analytics - One Click Away!
Currently one of the biggest problems for business users is a lack of tools that can be used for measuring ROI for Instagram. Although Iconosquare (even though it's not free), among other apps, is a fantastic app that measures almost everything related to your posts, it is more convenient to have everything you need in one app. Remember, new Instagram Insights are only available for new posts - posts published after you set up your business profile. Right after you switch to your Instagram business account , you'll be able to track engagement, reach, and impressions on your posts as well as the number of website clicks generated from your posts.
You will also have access to your audience demographics such as age, gender, and location which will be helpful for audience targeting. More importantly, you'll be able to learn more about the behavior patterns of your audience in order to create more relevant and timely content.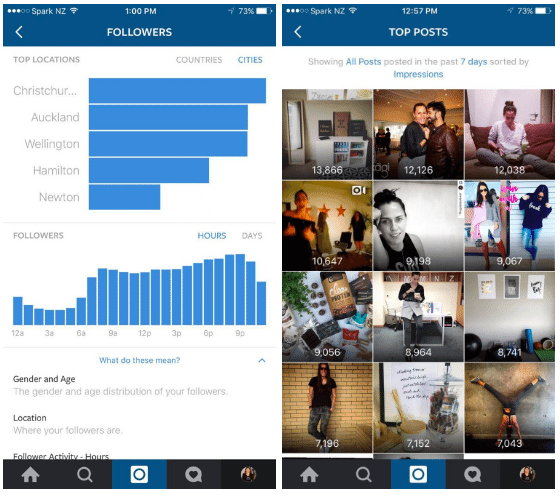 Making ads through the Instagram app is now possible
Another thing that will allow you to do more with your phone (wonderful time to be a community manager) is the promotion of your posts through the app. It is waaaay simpler than Facebook's Power Editor! If I'd had to compare it with something it would be "as easy as boosting posts on Facebook" only more effective. All you need to do is choose the post you want to promote and decide on call to action for the goal you want to achieve. The CTAs that are available to choose from are Learn More, Watch More, Shop Now, Book Now, Sign Up or Contact Us (you).
After you've set up the basics, you can let Instagram automatically create an audience or you can create a custom audience. Set your budget and duration, review settings, add your payment method, and then submit your promotion for review. For more details read Social Media Examiner's article Instagram Business Profiles: How to Set Up and Analyze Your Activities, especially if you're a visual type.
Your Customers Can Now Easily Find and Contact You
One of the steps you'll need to go through while switching your account to Business Instagram is adding or editing information about your business. Linking your Business manager account to Instagram will update basic information about your business. That information includes location, phone number and contact, such as email, and now you can remove each of them. Your phone number will become a button right next to the follow button and followers will (obviously) be able to call you anytime.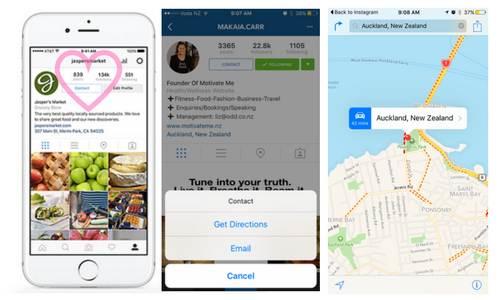 Since this was announced last month, Instagram for Business is currently rolling out gradually in the US, New Zealand, and Australia, and will be available in all countries throughout the coming months.
Consider testing how Instagram for Business works for your brand. :) Our advice - don't be afraid of the monster under the bed (algorithm) - you can always turn on the lights (switch back to normal profile). :)