In my last blog post, I wrote about the importance Slack has in Bamboo Lab as our primary communication tool. As you can remember, one of the huge plus sides of Slack, for me personally, is its customization. When I say customization, I don't think about changing themes, colors and your profile picture (but I need to mention that this is also resolved extremely well in Slack). The best customization that Slack offers to everybody is the Integration of the third party apps.
Adding apps as integrations in Slack is easy as 1-2-3 or learning your ABC's. Nevertheless, we will present you with all the necessary steps for integrating your desired app.
Let's begin!
1. Find the Slack App directory
The first step is usually the hard one, but for Slack App integrations, it is the easiest! All you need to do is follow the white arrow next to the bell. Ok, this might sound completely confusing at first - but it isn't. Open your Slack Team options and you will find it (as shown in the picture below):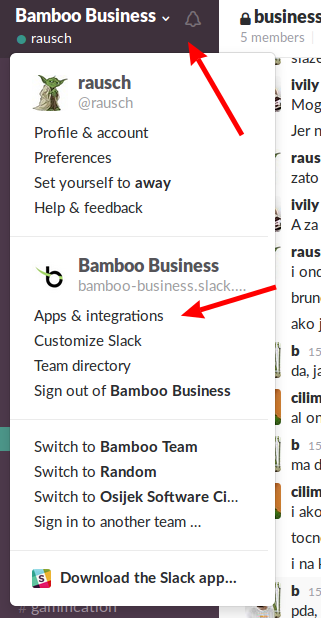 After opening your Slack Team options, you will find Apps & Integrations. Yes, you've guessed - you have to click on it. After you have done that, it will open App Slack Directory in the new tab. You should see something like this: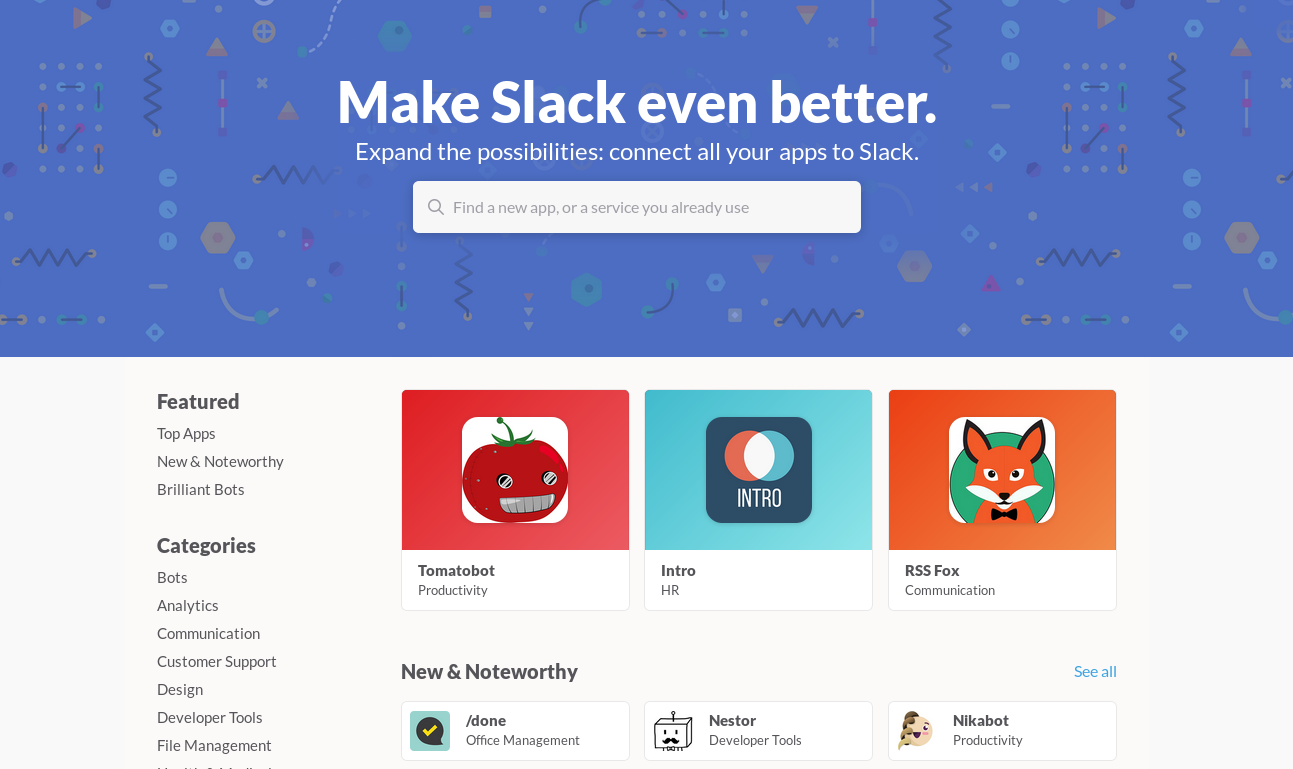 If you are visiting Slack App directory for the first time, you will see a friendly header text inviting you to make Slack a better place by connecting additional apps to your Slack. And believe me, adding some of the offered apps really helps. For example, we connected Asana (our work tracking tool) to Slack, so when someone comments to any of our current Asana tasks, Slackbot reminds us about new activity associated with Asana. Time-saving feature at its best.
2. Seek and find
After arriving at Slack App Directory, the most of the users will be overwhelmed. There are so many apps to integrate, but do not worry sweet child of mine.
In the Slack App Directory you have it all segmented. On the top of the page, you can see Featured apps that are categorized into three categories: Top Apps, New & Noteworthy and Brilliant Bots. These are Slack's curated sections, where Slack recommends the best, newest and the most brilliant apps to integrate into your Slack account.
Additionally, all apps are categorized into seventeen separated categories where you can browse specific apps in many different fields, like Medicine or Design. You can even search something within Travel apps, as well as try to boost your productivity and take a look at the awesomely named category for productivity apps called Productivity :)
Once you enter a category or a featured list, you will get the list of apps with their short descriptions.
For me, and for many users who I spoke to, the short description is the real deal. It shortens the whole process of scanning what is the use of the specific app and how can it help you. Once again, Slack is here to help you with your time.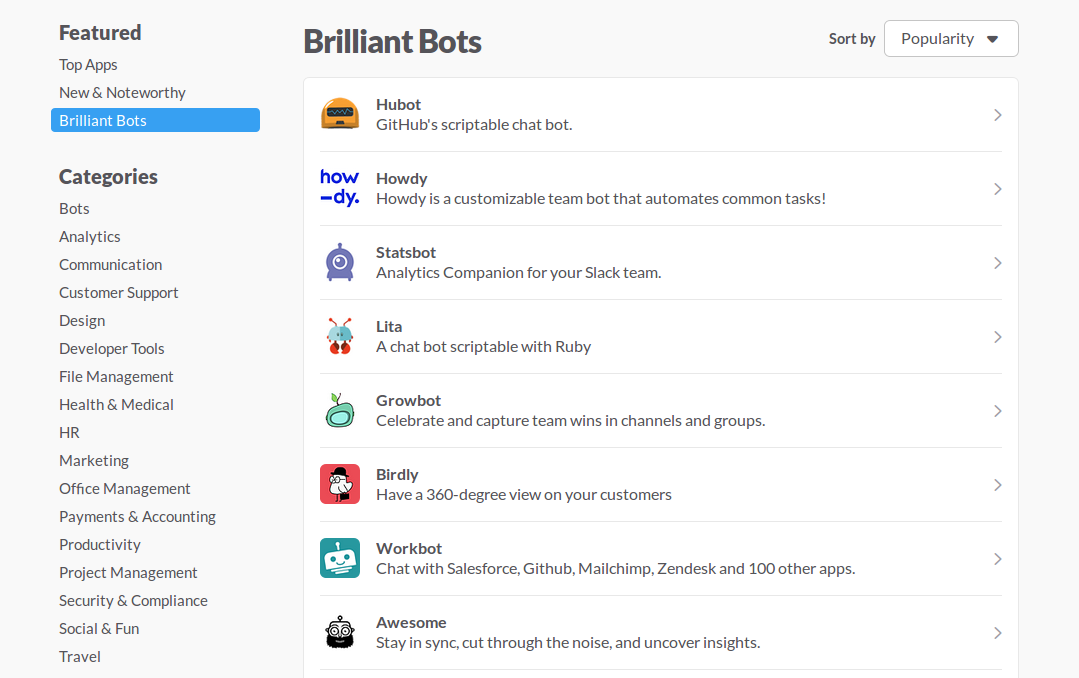 3. Installing Growbot...
After searching through a couple of categories, I decided to add a bot called Growbot to our Slack. Once you set your sight on the desired app or bot, you're one click away from its separate page where you'll find all the detailed information you need (help and support, privacy policy, reporting options and all the categories the app belongs to (amongst other information)). Additionally, Slack has a disclaimer stating:
"Slack conducts a brief review of apps in our app directory and does not endorse or certify these apps."
Beneath the disclaimer, you can pick all your Slack Teams for whom you want to integrate the desired app.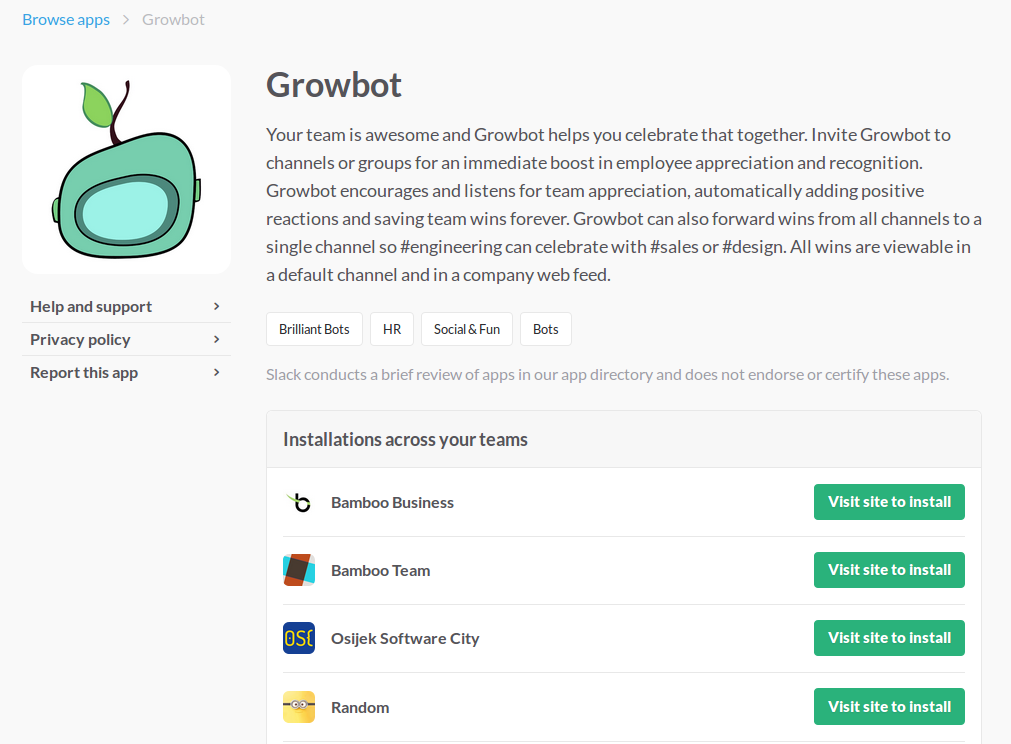 Adding GrowBot to Your Slack Channel
You can install it either directly or via apps web page. After choosing to install Growbot to your Slack you need to authorize the app. After authorizing the app/bot, in this case, Growbot comes to life within your Slack.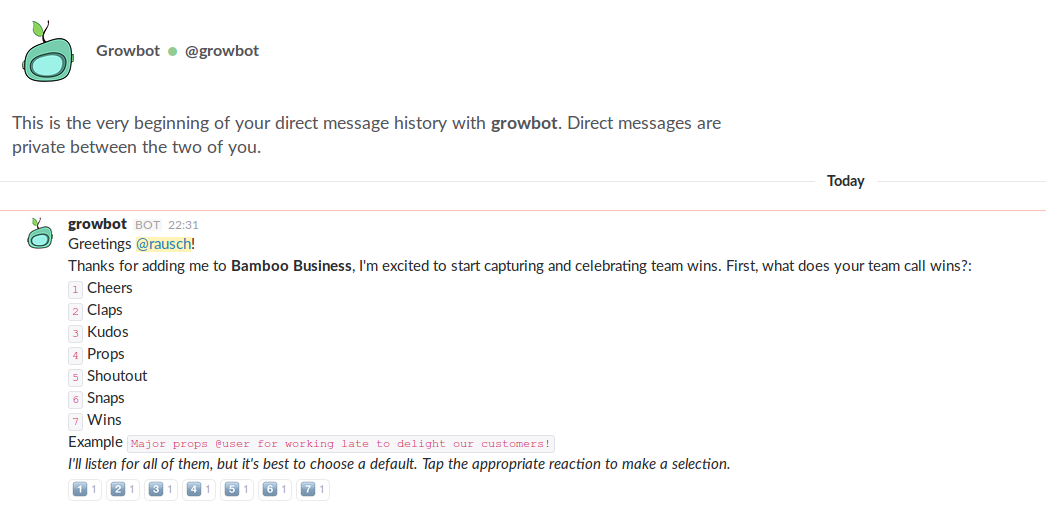 4. Setting up Growbot
The first thing you will notice is that Growbot has really good manners. The bot greets us and thanks us for adding it.
Since it is a bot for sharing victories, we need to add the word for our victories. We will choose "Kudos". After defining the desired keywords for success, Growbot tells us about additional options.
You need to get a "Super Secret Token Link" to be able to go to settings. And yes, on the growbot.io it really is written "Get your uper Secret Token" :) After getting the Token, you can access the settings on [team_name].growbot.io/settings. Basic settings include selecting additional keywords, default channel and info about the billing options for advanced users.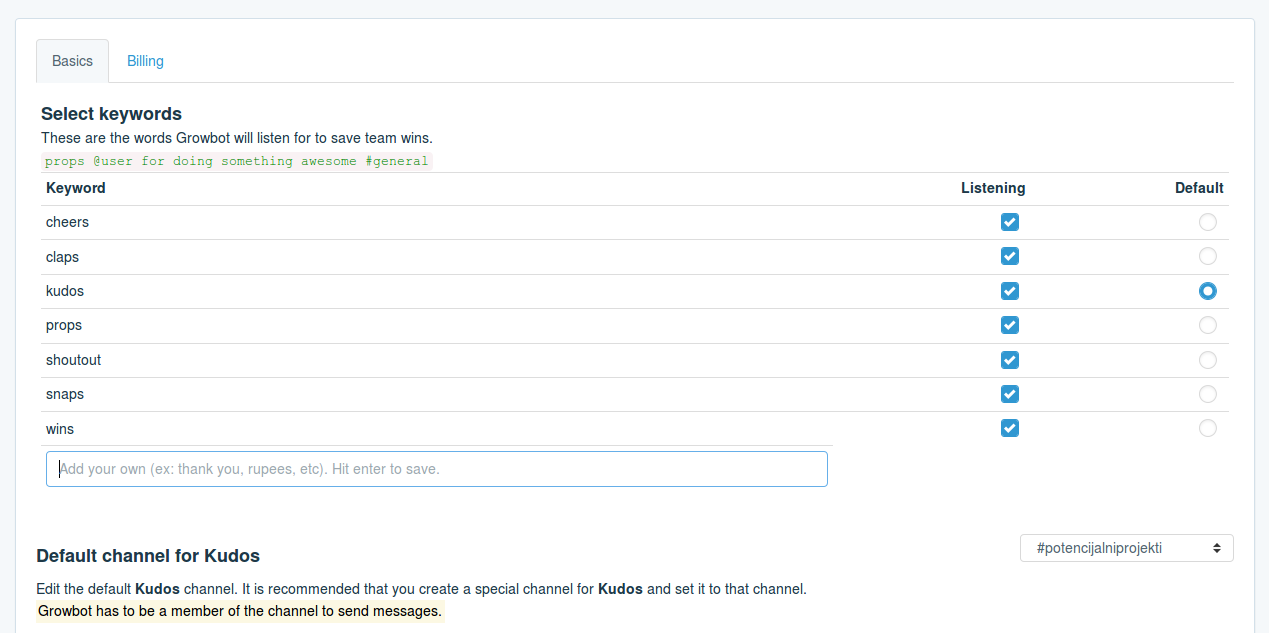 You can also see all the success calls your team members got as well as the leading scoreboard of all users on Slack. All in all, after adding the bot, in our case Growbot, all additional settings are extremely easy to set up and completely user-friendly. Firstly, we set up Growbot just for the demonstration purpose of this blog, but now it seems we are keeping it. Kudos! :)
We received our dose of "Kudos", Final Thoughts?
In this blog, we have covered the integration of the third party apps and bots to your Slack team. Since there is a huge offer of apps and bots already in the Slack App Directory, every team has its own right and freedom to customize their Slack and make it the best possible communication platform for them. If you need more stats - add stat bots and statistics apps, if you need more fun add Giphy or even some joke bots - Slack gives you everything "on the palm of its hand".
Slack is really awesome, fast, real-time communication tool and much, much more. It is essentially a communication platform that can be upgraded, customized, changed, optimized and adapted by using third party apps and bots. With all these options, you can make Slack almost everything you want it to be - your own personal communication tool and platform. Kudos @Slack!