Dear colleagues, are you happy with your 2017 accomplishments? Creating content, optimizing ads, communicating with both clients and followers, self-education… this job is definitely not a standard one. Having too many tasks and multitasking can easily make you lose your workflow and feel the strain of time pressure. Through 2017 I watched videos, read books and utilized tips that would improve my work efficiency. Some of them have worked, some didn't, but I noticed a big progress in accomplishing 90% of all tasks on time. :)

So, here is how I managed to do it. :)
1. Preparation - Monday Blues No More!
Before the Monday kicks in - prepare. There's nothing worse than starting your week feeling lost and disorganized. Simply avoid it by making:
A layout for an upcoming week so you can mentally prepare yourself. Take an hour of your day - whether it is staying longer on Friday in the office or on Sunday evening before going to bed. Write down your thoughts, expectations and crucial tasks (will talk more about that later).
Low maintenance tasks - just by scheduling content with tools like Hootsuite or Agorapulse will save you both time and energy.
Overview of the past week - enter your social media results in tables, analyze it, make notes to yourself about improvements that can be made in the next week… You'll get the idea on what to focus more in the upcoming week. Maybe you'll have to put in extra time in order to achieve your defined goals.
2. Tasks and Prioritizing
Priorities - choose only three high priority tasks in a day. Be honest with yourself and put the number of tasks you are sure you'll be able to complete. A sense of failure from not completing tasks is what we're trying to avoid here. To avoid slip ups, our Social Media team tends to share top 3 tasks for the day every morning - this way we all keep each other updated and accountable. :)
Do the hardest task first in the morning. Yeah, you'll get a sense of accomplishment at the beginning of the day but there's something even better. Think about it - when do you have most quiet time? :) Before the work buzz takes over, do those tasks that demand focus and fresh mind without distractions. For me, that is between 7 and 10 o'clock.
Sometimes it's easy to lose yourself in a certain task, allocating it more time than required. To increase your awareness, set a time limit. If you have never measured how much time you need to perform a certain task, this will be a double win. You'll become aware of it and notice what makes you lose time.
Do tasks earlier than deadline - there's a possibility that you'll have to revise something after getting feedback. Avoid the last minute work. Before setting up a deadline I tend to:
take into consideration the amount of current workload
be realistic with myself about how much time it would take me to accomplish a task
Another reason why you should start early with your tasks is that you never know what another idea you will think of. For example - usually, you need to send a content plan to a client by the end of the week. You probably started creating all the content a day before the deadline and suddenly you get this cool idea for a Facebook video. Even though it would go perfectly with the next week's theme - you won't have enough time to produce it.
You have to do a task that seems daunting? Break it into smaller ones. Eg. you have to write a blog post - one day you should focus only on research, next day on the concept etc. Just stick to the plan (trust me) and don't fall in "I'll do it tomorrow" state of mind. :)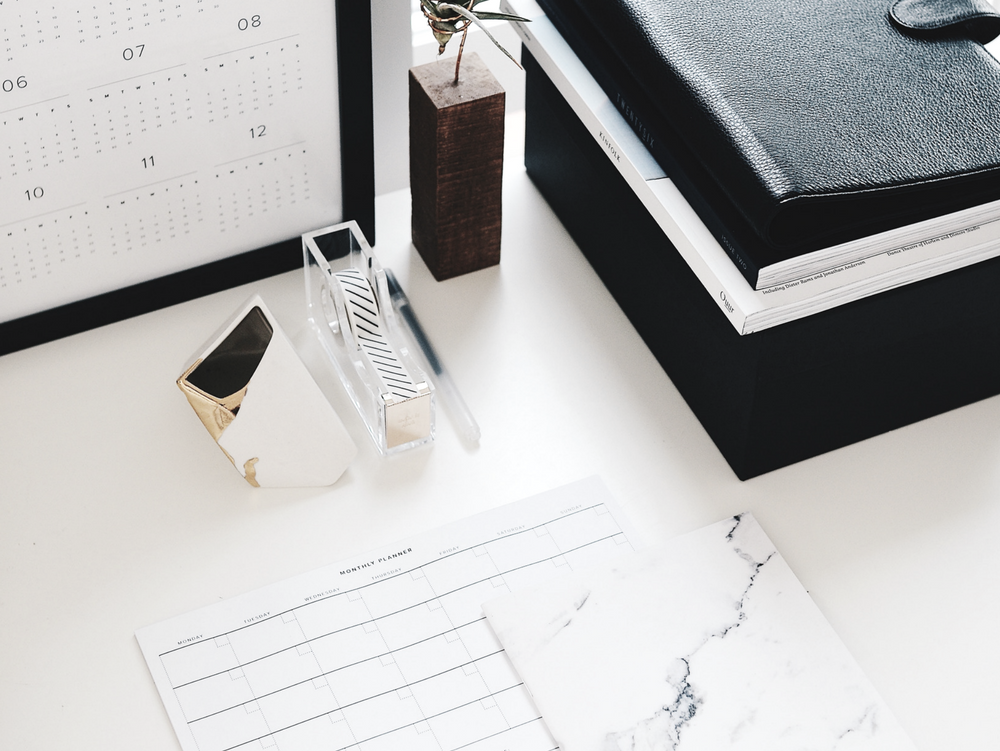 3. Having a Routine IS Possible
How to establish one? First, analyze your current work habits by writing down date and time of every action/task throughout the week. Then see when is the ideal time of the week/day to do recurring tasks. Then set that time of the day to only do that defined activity. I personally have found the best time to do my everyday Instagram activity 10 minutes at the end of my working day and over time became a habit that helped me to be more consistent with achieving my weekly goals. Also, it keeps me at the bay of endless Instagram scrolling. :D
Another tip is having a defined time for your weekly meetings - create a team habit so it's not negotiable to move meetings around all the time which will cause interfering with your routines and plans.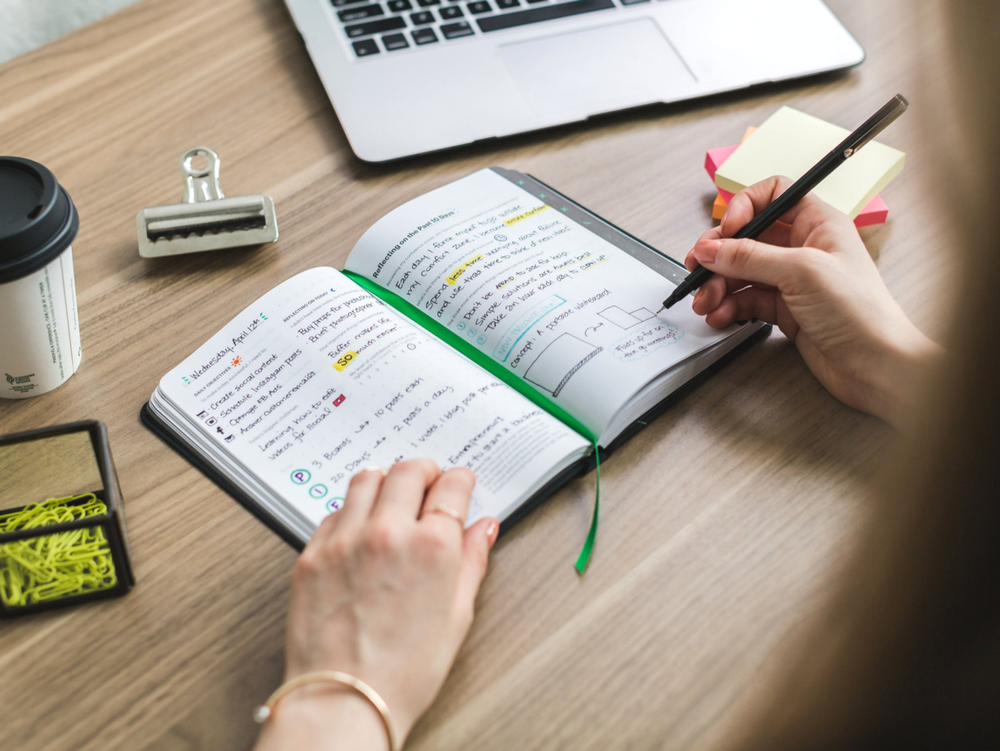 4. More Then a TO DO List
To do lists on daily basis (in notebook or Phone notes) are great for keeping tasks in focus but they won't give you a full perspective. To keep all tasks visible and at one place you need a more advanced helper. Our is Asana - web application that keeps tracking work for you. :) We love it because you can create tasks and subtasks with deadlines, classify tasks by projects, attach files - integrate Drive files, and it's transparent - which allows us to work great as a team.
Last year we had a big Xmas project with one of our clients and we had to effectively communicate with both client and influencers working on the project. We started to look for easier tracking and communication tools than just email or Slack. Although Asana excels in sorting out tasks and deadlines into one place, we still needed a more effective tool. We came across Airtable - an app that allows you to filter, sort and arrange a table for your big project. Members can edit, comment and collaborate in real time while changes are automatically synced across everyone's devices. Here are a couple of examples how it can ease your work:
the collaborator field makes tracking of progress more transparent and easier. You don't need to create a new field and reassign every single task — you can simply Convert an existing drop-down menu of task owner names into a collaborator field.
It's easier to assign and collaborate on tasks. Our marketing director Iva worked on the project plan for this campaign and realized that she needed to assign a task to me before inviting me to collaborate. There was no need for her to open up the share dialog in order to send me an invite — she has done it directly from the collaborator field, and got right back to working on that plan. Without interrupting her workflow. :)
It allows everyone to see their responsibilities. The great thing about Airtable is that you can get an overview of tasks each team member is currently working on. The creative director can:

Group up all the task records by the collaborator field
Make comparison of each team member's respective workload
Drag records between the different groups to reassign tasks
kanban view - let's say a CM has just finished social media posts for upcoming week that needs to be approved by the client. Rather than sending them a link through Slack or email, with your Airtable record, the CM can use the collaborator field and a kanban view to notify a client in seconds, without leaving Airtable.
Airtable mobile experience is much cleaner and easier to navigate than Google Sheets - after setting up a base you can have your own personalized mobile app. :)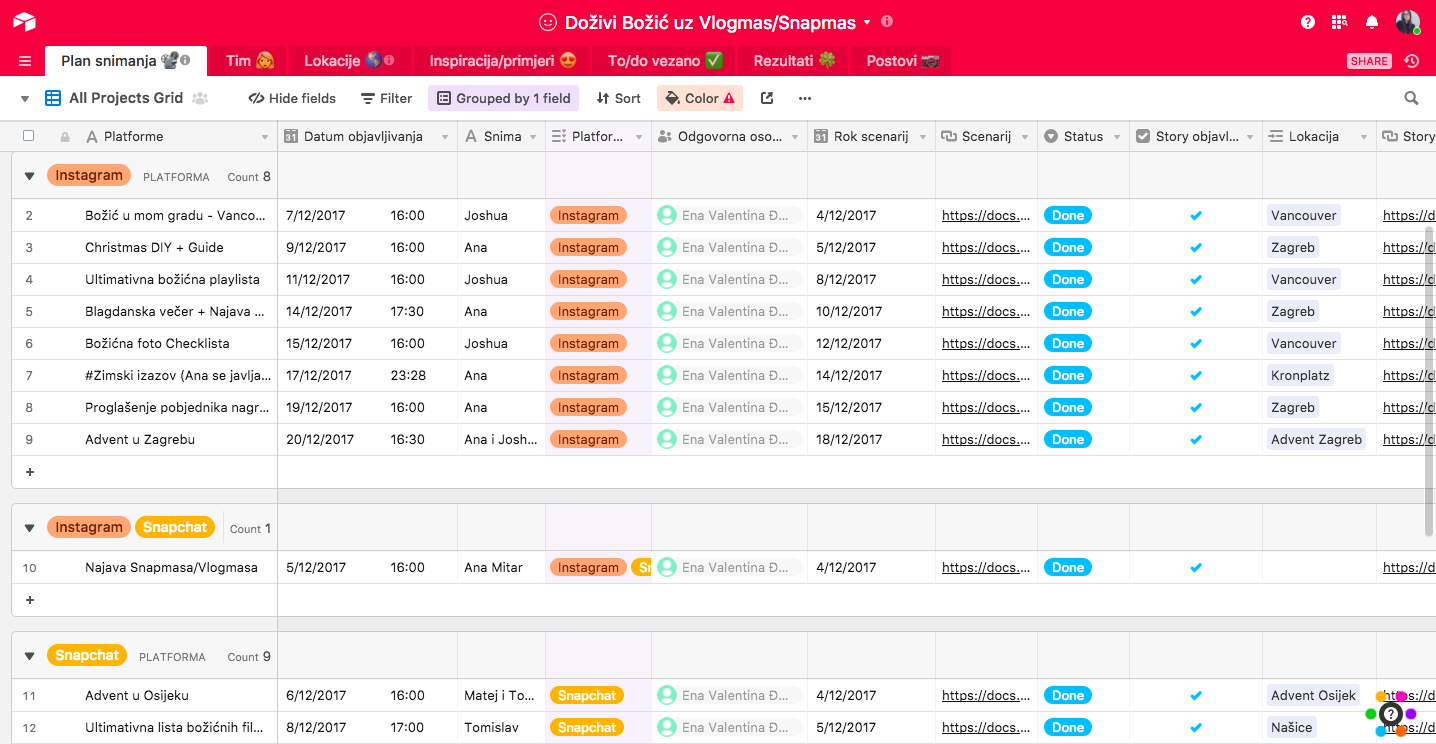 5. Inbox Zero State of Mind
Did you know that Inbox Zero is the thing? :) It was developed by productivity expert Merlin Mann:
"It's about how to reclaim your email, your atten­tion, and your life. That "zero?" It's not how many mes­sages are in your inbox – it's how much of your own brain is in that inbox. Especially when you don't want it to be. That's it."
That means that you shouldn't be answering every email all the time because it will distract you from your tasks. The easiest way to maintain it is to set aside a specific time each day to respond to emails. It can be at around 10 AM and 15 PM. Of course if you already have an open communication with sender or if it's urgent then resolve it as soon as possible.
To avoid email hassle in the morning do not go home from work with unopened or unanswered emails! You can even save yourself more time by scheduling emails. :) We use Chrome extension Hubspot email scheduling that helps you schedule your emails and also tracks email opens and clicks.
I hope these this tips will help you be more productive. Do you have any tips or tools to recommend to help us stay more productive in 2018? :)