The cornerstone of the digital world was seriously rocked this week! The launching of Snapchat 2.0 has made us excited as many of us were anticipating the change for a long time, but didn't expect Snapchat to make such a massive upgrade.
Chat 2.0 introduced a set of new features that cover every aspect of Snapchat as we know it, making it not only user-friendly but, we would dare to say, the most fun and lovable app.
The call for the development, as explained from Snapchat, was a natural course of events – Chat 1.0 started with emulating the best parts of face-to-face conversation and now it's all about taking it to the next level:
"We want Chat to be the best way to communicate — second only to hanging out face-to-face." It's all about capturing moments as they would naturally happen and (as in real life) - disappear.
Now you can swipe and shift between video calls, texts, audio calls, audio and video messages, photos or stickers.
We can say they meant every word they said seriously because Chat 2.0 focuses on making various ways of communication available all at once - within one app, what seriously flirts with the idea of Snapchat becoming a rival to the phone itself.
Let's start from the beginning!
The first novelty is a redesign of the private chat display which now offers new elements to the excitement of all Snapchatters. Four features, from left to right will ease your mobile communication and make it even more entertaining.
1. Send snaps right from the gallery!
The first icon on the left finally lets you send one or multiple photos from your mobile gallery. Directly! Within the app!
It's the feature we were craving for since there were so many moments when we didn't have time to open the app, but still managed to capture the moment with our phone camera. Now we can send every photo from our camera roll and spice the photos up with filters, drawings, and writing tools that are already inbuilt within Snapchat! Yay!
By the way, you can now send photos from your camera roll even during Audio and Video calls. Double the trouble. :)

Scan this code to find out how: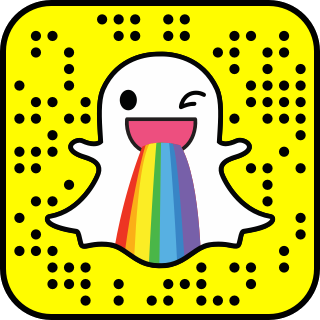 2. Call me maybe
Two new buttons reveal a whole new world on the Snapchat – audio and video calls are making Snapchat the app that really has it all, scrolling in the deep.
One long hold on the phone button will take a bite out of your typing time on Snapchat. It enables you to record short audio notes when you're on the run, busy or just too lazy, I mean tired, to type.
Your voice notes can last as long as your inspiration about the topic you're speaking about. Keeping in mind that Snapchat is all about 10 seconds rule, the possibility to have time to pour you heart out is quite a pleasant surprise!
Short click on the same button offers you the ability to initiate the audio call with your friends even if you're not chatting with them at the moment, transforming your Snapchat experience into phone-like activity. Still, it has a small distinction – the recipient has 3 options - to ignore, join or listen to your voice call.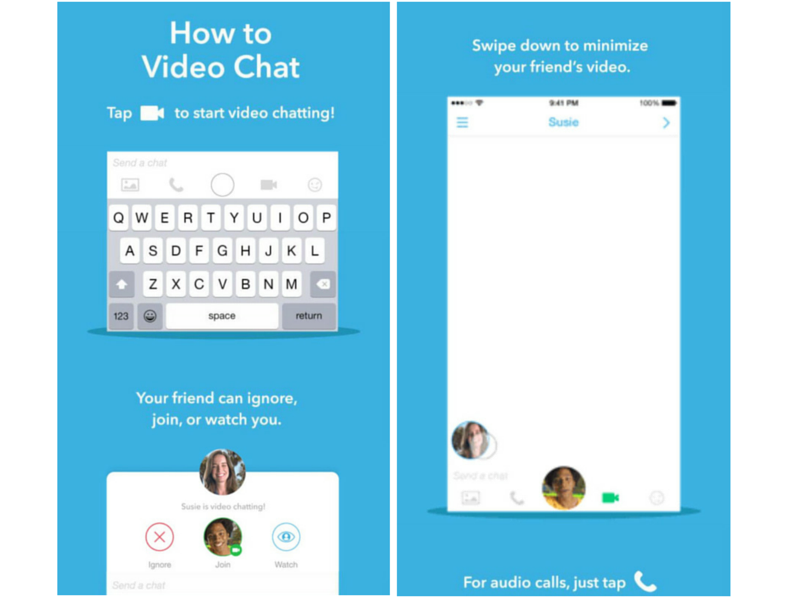 3. Tape me on your video phone, I can handle you
Similar to audio calls, little camera button leads you on the journey called video calls. From now on, you can show your friends everything you want while speaking on Snapchat and let them see you directly face to face – or not – if you choose to ignore the call or just to watch.
Also, if you hold the button a few seconds longer, the feature enables you to send a video note – a fleeting 10-second GIF-like recording that will catch all emotions and faces you want to express in that period of time. If the recipient taps on it, it plays audio, too.
We all have our unique mime and looks that we're known for, so is there any better reaction than your authentic face? I don't think so! That's why I enjoy using this one already.
In the end, chat 2.0 keeps both chat pals buttons on the fly between Video and Audio Calls, Video and Audio notes, stickers, and text as their communication desires drift, so users can switch from transmitting and just listen or watch. In other words, you can send stickers and messages during your Audio and Video calls, just listen or just watch, then turn on your camera and video, then turn off, then turn on, then send a message… I think you got the point - you can do all at the same moment.
We love how we can play with these features because they are adaptable to almost every situation and fit all your moods for communication. Also, so many options placed within only one app are turning Snapchat into the dominant app on your mobile phone, beside which every other becomes irrelevant - why would you waste your time switching from one app to another, from feature to feature when you can find all that within one app?
4. Stickers Will Take Your Conversation to the Next Level
Last, but not least, if you're not feeling like exposing yourself visually in private chat, over 200 stickers are just one click away. Also, there are ones related to the phrases you've typed like "I love you" or just "tired" that appear immediately when you press the Sticker button. Although we all love typing and recording, a saying "the picture is worth a thousand words" is not for nothing and is especially useful if you're running out of time.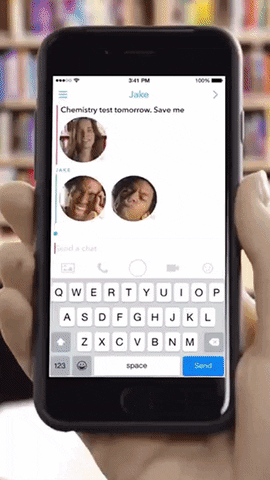 New Auto-advanced Story Experience
When you're done with private chats and you want to browse through your friends' stories you will find that Snapchat stories now auto-advance. When the story you're watching is finished or if you swipe left, the next story in the row starts to play – which is excellent news that will not only boost your view counts, but also your confidence about the visibility of your posts!
Are Your Snaps Being Permanently Deleted?
In the end, Snapchat freshened their Privacy center site, breaking down that snaps on Live stories aren't permanently saved and that app deletes everything after it is expired or after the users have seen it. Making this clear made us breathe a sigh of relief since we don't doubt anymore if our privacy was put in the safe hands.