I never thought I'll be an entrepreneur. For the most part of my formal education, computer science was my area of focus - from elementary school and learning Logo, Basic and Pascal to getting a Master's degree in Computer Engineering by programming NAO robots to dance Macarena. I was focused on mastering robotics...Things change.
When I assured myself that career in computer science was definitely the right choice - trying to get a job at the Faculty as a research assistant or to get a job in a small to middle sized computer science company was a reasonable next step. Neither of the choices did have any privilege, so I started applying for both. Just a couple of weeks after my graduation, I landed a job as a Junior IT consultant for business software applications. Good job, good payment, great boss, and colleagues.

During the first year of my contract, I was exposed to dozen stories about how the company owners left their jobs and opened the company 20+ years ago. It obviously was a great career and life choice for them with the company surviving 20+ years with 50+ employees in a shaky Croatian business environment. Thinking of their success story inspired me to make a change. The inevitable happened - entrepreneurship spark hit me, and it hit me hard.
It's almost like falling in love, a feeling you cannot really suppress. And it doesn't go away. It's slowly burning inside you and waiting for you to make the move and start your own voyage in the misty waters of entrepreneurship, especially Croatian.
I was constantly asked why did I decide to leave a stable job with steady income and start my own venture in the middle of late recession period. I didn't have a good answer back then, but I have a few ones now. There are plenty of good reasons to consider before starting your own business. Mine are grouped into 4 categories.
Flexibility and freedom
You will hear this reason from many entrepreneurs, so it really must be a good one. In most cases, cherishing the freedom more than most things in life is a cornerstone to becoming an entrepreneur. When I say flexibility and freedom, I think of one very broad topic. It can mean the flexibility in working hours, choosing the vacation dates, planning your spare time, organizing tasks and prioritizing them, just to name a few. There is a saying "Entrepreneurs have the option to choose which 20 hours of the day they work" and is absolutely true, so be thankful for that perk of choosing.
Being your own boss allows you to choose which projects you want to develop, which clients you want to work for, how to develop your internal business culture. All these reasons can seem boring and unattractive. If you're stuck with the entrepreneurial mindset and working for someone else, it's a matter of time when you're going to start your next adventure.
Creating jobs and education
If you are in the position of leading a company, at some point you will probably be hiring employees, hopefully at some point. You will have the privilege and obligation to the people you hire. Providing job opportunities is an amazing feeling. As I always loved sharing knowledge, being able to do it through my own business is a real blessing.
Another great benefit when it comes to creating jobs is the ability to provide young talents with internships and traineeships. Being able to act as a mentor and build new generations of programmers and entrepreneurs is a gift when you have a passion for learning and education.
More meaning
Being your own boss is quite an adventure. Working only for money and good salary is a clear path to be unhappy in life. We are seeking 'more than just money' or least we should be. As every day brings new opportunities and challenges, you'll realize money will come as a side effect if you keep doing what you enjoy. The passion is the key to success. At one point, the effort will pay off and when it does, you'll be there to enjoy it.
Owning your business grants you with the opportunity to shape yourself, your colleagues, and your surroundings. You're in charge of doing things you believe in. Lastly, it comes to leaving your trace in this world. As an entrepreneur, you're in a perfect position to stand firmly and say boldly: "Yes, I am changing the world, one step at a time!". Be it a small step, big step, leap or jump, it doesn't really matter if you are improving and"evolving".
Only you can define "the meaning" of your work and it will bring you the sense of fulfillment and joy. No longer will you hate Mondays, no longer will you crave Fridays. Your work is what you want and what you love. By choosing this path, your work-life balance will change but it's worth it, at least in my case.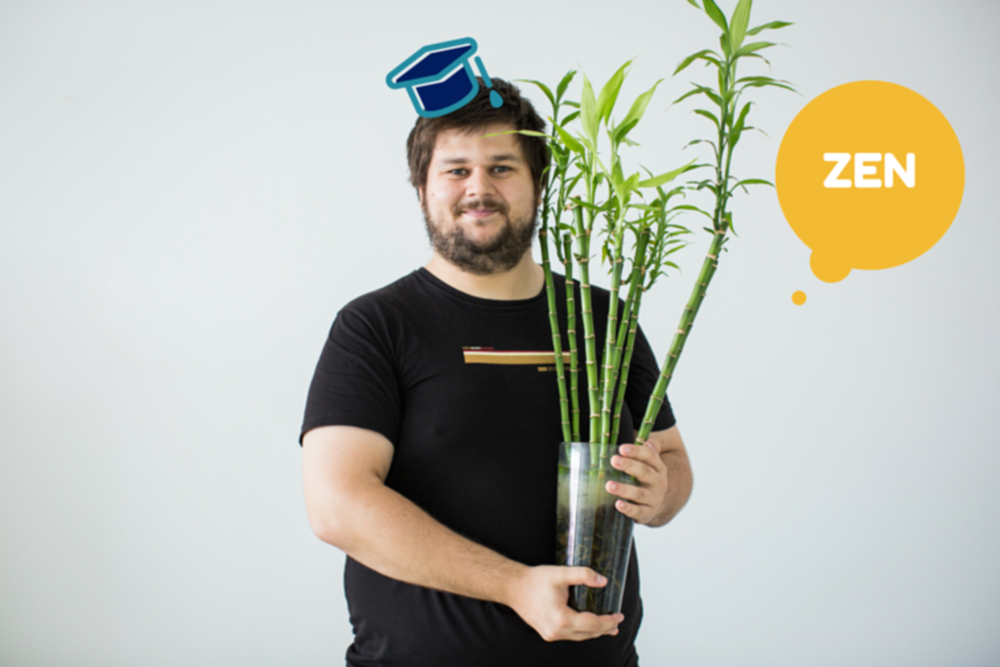 Jack of all trades
For many Gen Y people, boredom is one of the biggest enemies. Repetitive tasks and lack of creative involvement at work surely contributes. Sadly, a majority of people in our surroundings do settle for the same job routine each day and that's ok if you can cope with it or find enough personal satisfaction in it.
Running a company will definitely kick the boredom out of you. There is no everyday routine or the need to say "My work is done!". As a CEO, your work is probably never done, and neither is your work ever the same. Everyday tasks are now varying obstacles on the path to success. Varying obstacles will, in time, give you a varying skill sets. Jack of all trades, some would say.
As a CEO, you should be able to switch tasks ranging from business development and office management to the ones related with sales, IT development, or marketing. That way, you'll be able to (at least) clearly communicate with your colleague developers and marketers, change the light bulb, water the office plants or make the coffee everybody loves. The coffee part is probably the hardest to accomplish. :)
Lastly, everybody has their own reasons to start their own adventure. There really are no good or bad ones. Your reasons are good enough and that's what matters!