The arrival of Instagram in Apple's app store was accompanied by a brief note outlining the company's vision: to make mobile photographs "fast, simple and beautiful". Well, it was certainly simple and beautiful to watch as it rapidly grew into a platform which turns creativity into a business. Instagram in today's world where terms such as communication and connectivity are a part of our routine, the very idea of a social media network based on photo sharing has found its way into hearts of many people. With its increasing popularity and functions, it was only a matter of time before few innovative individuals marked popular saying " a picture says a thousand words" with #success.
1. The Dogist or 'chase dogs in your free time'
To start off our list, we have a man who aims to capture the very essence of a man's best friend. The Dogist, a photo-documentary series about the beauty of dogs, was created in October 2013 by Elias Weiss Friedman and is based in New York City. Before we get into it, first we have to understand what drove him to embrace his passion for dogs wholeheartedly. It was few day after a photoshoot that a dog died unexpectedly and their owners expressed gratitude for enabling them to preserve a memory of their dear furry family member. Among all these fake internet personas it is a truly a breath of fresh air to see someone showing its real self on Instagram. When interacting, people usually show the generally warmer attitude towards those that are authentic and creative which are important factors for success in social media. Armed with his trusty Nikon D750 and the motto "I chase dogs in my free time" Elias has since then acquired over 1.8 million followers with posts reaching 80 thousand likes each. Series has traveled to over 30 cities around the world, including, China, Taiwan, London, Oslo, Amsterdam, Brussels, Paris, Venice, Milan, Croatia and more.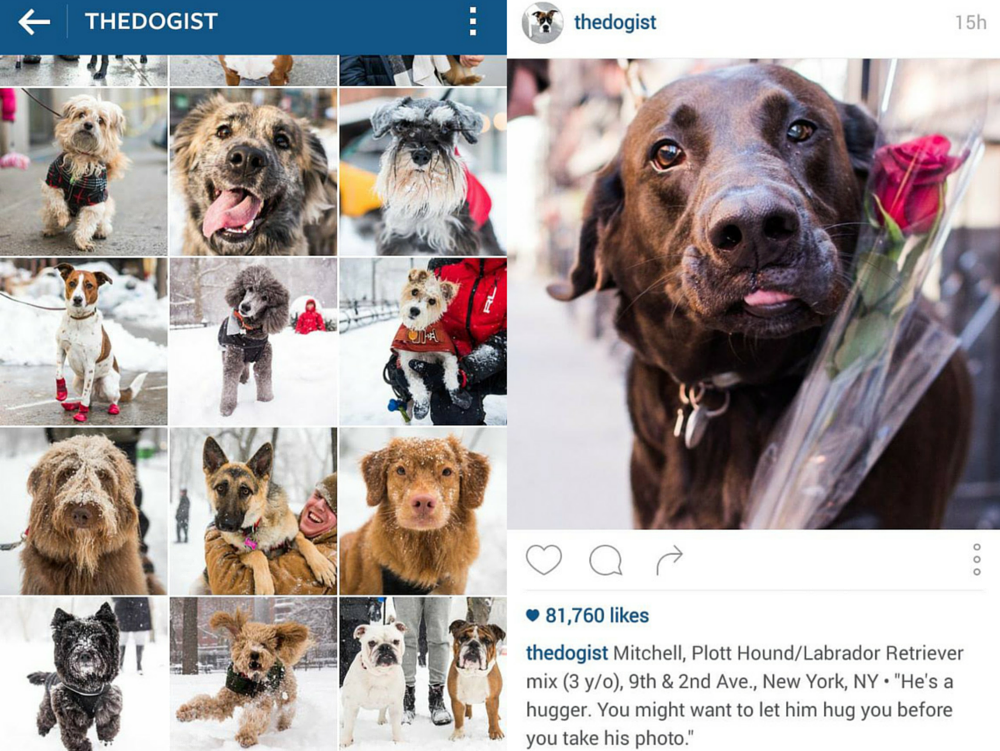 What makes him stand apart from the rest of the dog enthusiasts is that when taking photos he gets down to their eye level. With the combination of toys and sound, he gets wonderfully unexpected results which portray dogs individuality which he further builds on in his posts by adding their name and characteristics. Elias has worked on many projects for major dog food and pet soppy brands, and regularly visited local dog shelters in order to promote adoption and make sure many dogs wag their tails for many years to come. In doing so, he has acquired socially responsible audience willing to promote his activities as a dog ambassador. If you are more of a book person fear not because he has published a book The Dogist which contains photographic encounters with over 1000 dogs. His Instagram posts were the core of the book thus achieving worldwide success.
2. Inspiralized - when tragedy changes everything
If you thought our article will not contain at least one foodie, you are wrong. Alissandra or for short Allie has turned a family tragedy into an inspiration to help others change or maintain a healthy lifestyle. This is another example of how well people respond when they develop relationships with the person behind the camera. Her mother is a Type 1 diabetic. Actually, she had gestational diabetes, so she became diabetic while pregnant. This might be the reason why now she eats clean, healthy, whole foods and resists sweet temptations with some minor slip ups. She's perfect in making creative, delicious and nutritious meals with the aid of the spiralizer - a razor-sharp cutting device that creates thin ribbons of vegetables.
She mustered the courage to live her dreams by quitting "corporate America". On June 25, 2013 Inspiralized was born. An Instagram profile meant to showcase Allies unique approach to raw food preparation. Her determination and consistency only grew when the community of like-minded people began supporting and following her ideas accumulating to 117 thousand followers. Her profile and blog both depict and promote a message that healthy eating can be applied on any occasion during the day, whether individually or at social gatherings. Since then, Ali has published a cookbook and created her own version of the spiralizer, the Inspiralizer. If you wish to try something different and creative, maybe even trick your friend into eating organic food and after the famous "Oh.. this is amazing" watch happily as you confess they have been #Inspiralized.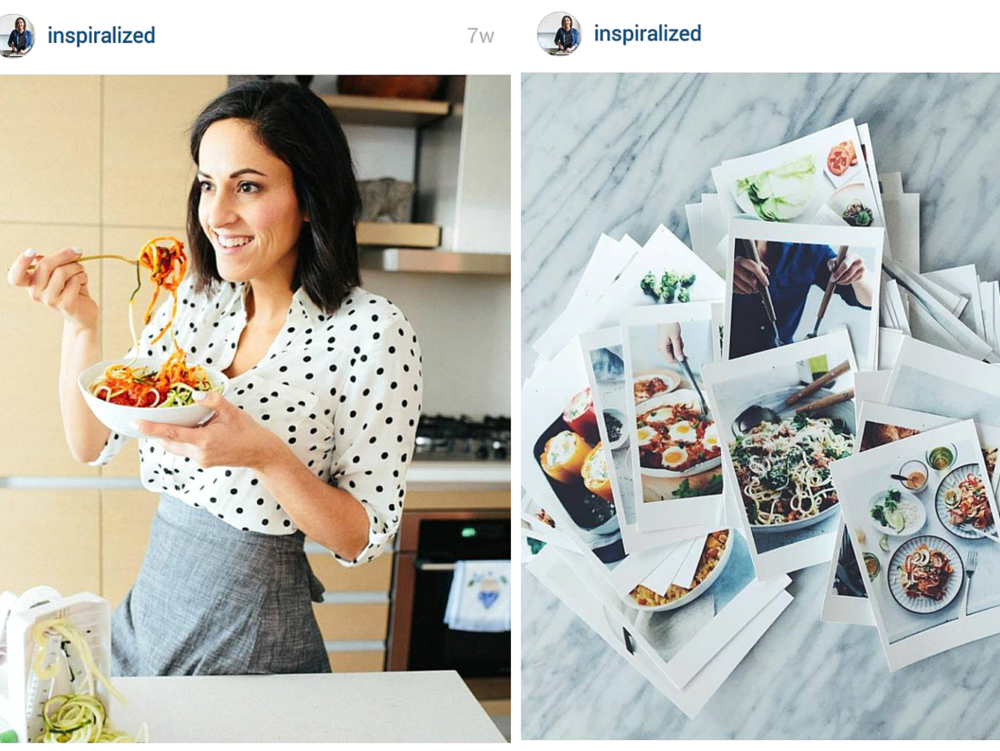 3. Lebackpacker will help you experience the life to its fullest
How many times did you second guess your life choices and wanted to cast it all away, and experience the world to its fullest? Well, Johan did just that. After he graduated in PR in 2013 he left Europe and spent a whole year exploring Australia and showcasing the beauty of the country to his audience, mainly on Instagram. His unique outlook and truly unique nature images add depth to his work showing us the emotions behind every photo. The elements of surprise, uniqueness, and dedication that come with his every photo made him stand out. Little did he know that his backpacking adventures would land him a publication in National Geographic, BuzzFeed and DailyMail. After that, he decided to embrace his outdoor photography full time. Years later his photos continued to appear in Mashable, National Geographic Travel, Outside Magazine, Huffington Post. He worked with almost every single regional tourism organization in the country as well with Tourism New Zealand. His 2200 posts have generated over 250 thousand followers as he left Asia, Australia, Europe, Middle East, New Zealand and South Pacific behind his backpack. Today, Johan's audience is spread around the world with the top 5 countries following him being the US, Australia, France, Canada and Belgium.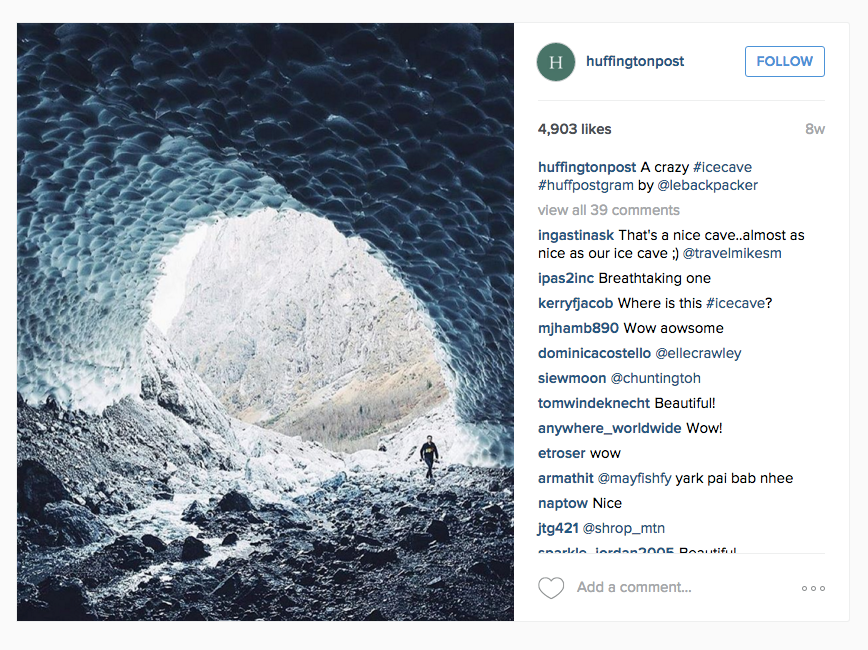 4. Discover whimsical creations of Paper Fashion
Art enables us to find ourselves & lose ourselves at the same time.
Guided by that philosophy Katie Rodgers created the profile Paper Fashion in 2009 as an outlet to share her fantastical watercolors with the world. Before the age of 7, her first professional set of watercolors enabled her to escape into her own imaginative worlds. Fashion, whimsy, and nature have forever been lurking inside her mind and onto the blank pages of her watercolor blocks. Instagram enabled her to share with the rest of likeminded people what art means to her.
I've always loved watercolors, so when I joined Instagram, I thought I'd show off the paintings I'd done in my free time.
Katie finds inspiration in everyday things and often gives her work a beauty that can be often missed by careless eyes. By doing so, her style is diverse and non-consistent giving her work an individualistic art quality. Little did she know that soon fashion magazines would highlight her work and brands like Coach and Valentino asked to create watercolors or digital videos that showcased their products or fit their advertising campaigns. Even when she promotes products or campaigns she puts artistic needs first while only subtly showcasing products. In art community, people don't respond well to "sell outs" and it is of utmost importance to remember the core of what makes each and everybody an artist. She does that marvelously keeping both integrity and beauty of her works. Like many artistic people corporate jobs weren't suitable to be the canvas of her life's design. Instagram thus enabled her to reinvigorate her artistic side and make a living out of it. With her 617 thousand followers and over 3 and a half thousand posts, she makes enough to live in a one-bedroom on the Upper East Side and travel.
5. Kristina - creative take on high-end fashion
And as our final mention on the list, we have Kristina with a whooping 2.2 million followers and over 8 thousand posts. Founded in 2011 by Kristina Bazan and her partner James Chardon, Kayture is the most influential blog in Switzerland, and one of the biggest names worldwide thanks to its vast international reach. Her blog acquired such a vast audience precisely because of Instagram being its key driving factor. Focusing on her unique artistic approach to high-end fashion it was not long that she obtained many lucrative cooperations. And believe it or not, she is only 22 years old! She stood out from the crowd by being one of the world's first influencers to partner with high luxury brands including Chopard, Piaget, and Cartier, and attending exclusive events such as the Cannes Film Festival, and the Spirit Awards. How? By focusing on editorial-quality posts, Kayture gained a unique reputation in the fashion industry and was featured in major magazines like Vogue, GQ, and Cosmopolitan.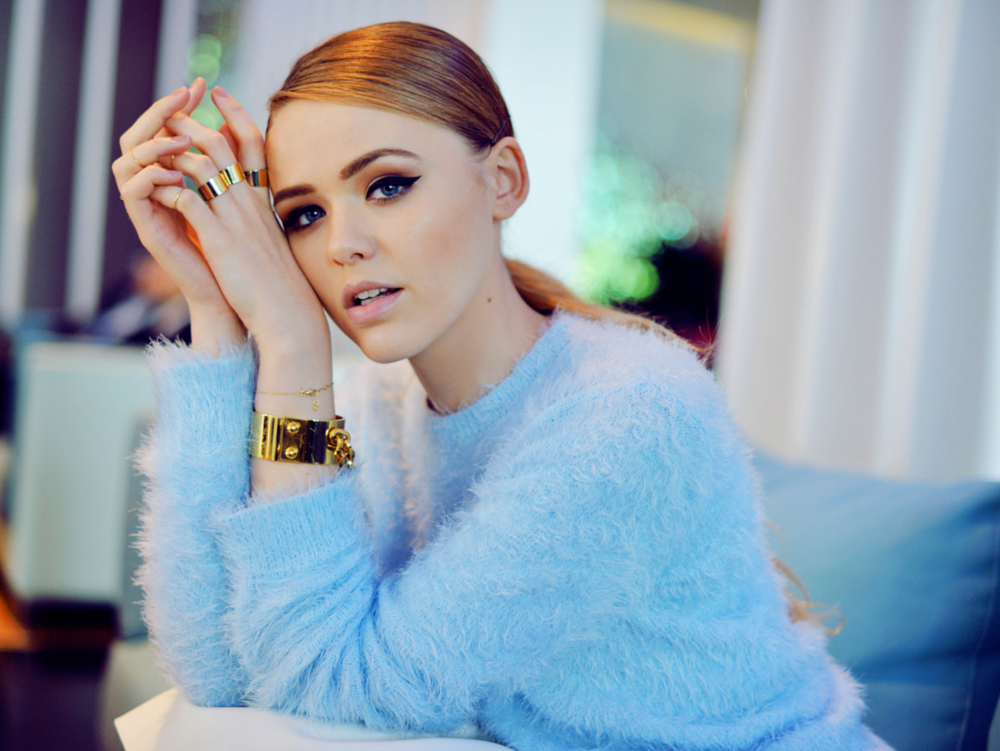 Constantly traveling around the world with her partner in crime James, Kristina shares her passion for fashion, beauty, and lifestyle, each day with millions of loyal readers, opening a window to her dreamy, luxuriant and colorful world. Even with all these accomplishments, she doesn't plan to stop anytime soon. Her signature #KaytureOnTheGo was inspired by those travels and later influenced the creation of her book. When she isn't living a lifestyle similar to celebrities, she finds solace and liberation in writing and recently published a book "On the go". Women's Wear Daily reported that she landed a deal as a L'Oreal ambassador and highlighted how fashion bloggers can make millions of dollars — between $1 million and $3 million annually. Although L'Oreal would not reveal how much it is paying Bazan, it's clear she's living the fabulous and luxurious life of a fashion and retail star. With Kristina busy lifestyle we will keep on watching her gain momentum and shock us even more in the following years..
As evident, Instagram isn't a simple photo sharing app, it is a sum total of its parts that make it important income driver and motivator because with each photo shared with the world two-way feedback loop is created which forms an essential basis for improvement in a line of work you love. And remember if you do something you love you will never work a day in your life. Share with us your favorite Instagram profiles you think are worth keeping track off!